This page has been copied from Wikipedia under the provisions of the GNU Free Documentation License.
Please help Baseball Wiki by revising it.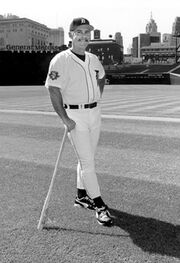 Philip Mason Garner (born April 30, 1949, in Jefferson City, Tennessee) is a former infielder in Major League Baseball for the Oakland Athletics, Pittsburgh Pirates, Houston Astros, Los Angeles Dodgers, and San Francisco Giants from 1973 to 1988. He was manager of the Astros from July 14 2004 to August 27 2007, leading Houston to a World Series appearance in 2005. He is currently in the running for the vacant Houston Astros managerial position.
MLB career
Edit
Nicknamed "Scrap-Iron" due to his gritty style of play, Garner's best year as a player was 1979, when he was a member of the World Series champion Pirates, batting .417 in the NL Championship Series and .500 (12 for 24) in the World Series. His icon at the time was the scrappy, similarly-mustachioed cartoon hero Yosemite Sam.
Garner later became a manager for the Milwaukee Brewers, Detroit Tigers and Houston Astros, leading the Astros to the franchise's first ever World Series in 2005.
In 1992, Garner replaced Tom Trebelhorn as manager of the Brewers. He quickly installed a running-focussed style of play as every starter that year stole at least 10 bases. Standing out were 1992 AL Rookie of the Year Pat Listach who stole 54 bases, veteran Paul Molitor stealing 31, and outfielder Darryl Hamilton stealing 41. This gave the 1992 Brewers a 2nd place finish in the competitive AL East but Garner's teams in later seasons in both Milwaukee and Detroit would not finish at .500.
The 2004 season was different for Garner. After a slow start under then manager Jimy Williams, Garner was brought in mid-season to replace Williams and led the Astros to a National League Wild Card berth, eventually losing to St. Louis in the National League Championship Series in seven games. The team experienced another slow start in 2005 but made a run once again late in the season and came back to win another National League Wild Card. This time, Houston would beat The St. Louis Cardinals in the National League Championship Series in six games and win the pennant only to be swept by the Chicago White Sox in the World Series.
Under his leadership in the last 12 games of the 2006 season, the Astros won 10 and lost 2 putting them a game and half behind the Division winners. Garner's contract was extended through the end of the 2008 season by the Astros. As manager of a pennant winning team the year before, Garner managed the 2006 National League All-Star Team in Pittsburgh on July 11 2006. Garner cites Chuck Tanner, his manager during his time with the Pirates, as one of his biggest coaching influences [1].
Garner is a strong advocate of having six relief pitchers on the roster as opposed to an extra hitter on the bench.
On August 27 2007, Phil Garner was released from the position of Manager from the Astros, along with General Manager Tim Purpura. Cecil Cooper was named interim manager for the remainder of the season [1].
Year
League
Division
Team
Age
Games
Won
Lost
Win%
Finish
Playoff Record
Playoff Result
1992
AL
East
Milwaukee
43
162
92
70
.568
2nd
-
-
1993
44
162
69
93
.426
7th
-
-
1994
Central
45
115
53
62
.461
5th
-
-
1995
46
144
65
79
.451
4th
-
-
1996
47
163
80
82
.494
3rd
-
-
1997
48
161
78
83
.484
3rd
-
-
1998
NL
Central
49
162
74
88
.457
5th
-
-
1999
50
112
52
60
.464
5th
-
(fired)
2000
AL
Central
Detroit
51
162
79
83
.488
3rd
-
-
2001
52
162
66
96
.407
4th
-
-
2002
53
6
0
6
.000
5th
-
(fired)
2004
NL
Central
Houston
55
74
48
26
.649
2nd
6-6
Lose in NLCS
2005
56
163
89
73
.549
2nd
7-7
Lose World Series
2006
57
162
82
80
.506
2nd
-
-
2007
58
131
58
73
.443
5th
-
(fired)
Totals
1877
903
974
.481
Garner was involved in the two longest post-season games in the history of baseball, played almost 20 years apart. He was the Astros' manager in the 18-inning victory over the Atlanta Braves on October 9, 2005. In the 16-inning loss to the New York Mets on October 15, 1986, Garner was the starting third baseman for the Astros, going 1-for-3, before being replaced by a pinch-hitter. Both games had the final score of 7-6. Interestingly, he also managed the Astros for the longest World Series game in length of time (five hours and forty-one minutes). The Chicago White Sox won the game, 7-5 in the 14th inning (tied for longest by innings).
References
Edit
External links
Edit
Template:1979 Pittsburgh Pirates Template:Milwaukee Brewers managers Template:Detroit Tigers managers Template:Houston Astros managers
Community content is available under
CC-BY-SA
unless otherwise noted.