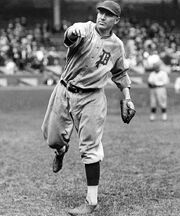 Harold Joseph "Pie" Traynor (November 11, 1899 - March 16, 1972) was a professional baseball third baseman who played his entire career with the Pittsburgh Pirates (1920-37).
Traynor was born in Framingham, Massachusetts. He received his nickname for a fondness for eating pie . He is generally considered to have been the greatest National League third baseman before the 1950s . Although he played in the era before the Gold Glove award was created, he was regarded by most baseball observers as the best-fielding third baseman ever until Brooks Robinson came along . He had a lifetime batting average of .320, and was struck out only 278 times in 7,559 career at bats. He was not a home run hitter - he reached a high of 12 in 1923 - but had high numbers of doubles and triples, hitting 371 doubles and 164 triples lifetime and leading the league in triples in 1923, with 19. He had over 100 runs batted in (RBI) in a season seven times. He had 208 hits in 1923, and was the last Pirate infielder with 200 or more hits until shortstop Jack Wilson, who had 201 hits in 2004 (Dick Groat had 199 in 1962, with 201 for St. Louis Cardinals in 1963). Traynor also managed the Pirates from 1934 to 1939.
In 1948, Traynor was selected to the Baseball Hall of Fame, being the first third baseman to be chosen by the BBWAA. He died at age 72 in Pittsburgh, Pennsylvania, not long after the Pirates moved into Three Rivers Stadium and retired his uniform number 20. In 1999, he ranked Number 70 on The Sporting News' list of the 100 Greatest Baseball Players, and was nominated as a finalist for the Major League Baseball All-Century Team.
Traynor is also the only Major League Baseball player ever to steal home plate in an All-Star Game.
Traynor died in 1972 and was buried in Homewood Cemetery in Pittsburgh, Pennsylvania.
External links
Edit
Community content is available under
CC-BY-SA
unless otherwise noted.