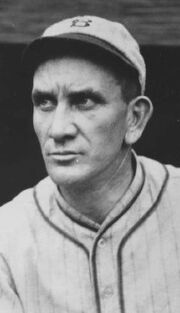 Walter James Vincent Maranville (November 11, 1891 - January 5, 1954), better known as Rabbit Maranville due to his speed and small stature (5'5", 155 pounds), was a Major League Baseball shortstop. At the time of his retirement in 1935, he had played in a record 23 seasons in the National League, a mark which wasn't broken until 1986 by Pete Rose. He was known as one of "baseball's most famous clowns" due to his practical jokes and lack of inhibitions.[1]
When he was appointed manager of the Chicago Cubs in 1925--one of their worst seasons ever--he did not change his behavior. One night he went through a Pullman car dumping water on sleeping players' heads, saying, "No sleeping under Maranville management, especially at night." Not long after that, he was out on the street outside Ebbets Field in Brooklyn mimicking a newsboy hawking papers. He cried out, "Read all about it! Maranville fired!" And so he was--the very next day.[2]
Over his lengthy career, Maranville played for the Boston Braves (1912 - 1920, 1929 - 1933, 1935), Pittsburgh Pirates (1921 - 1924), Chicago Cubs (1925), Brooklyn Robins (1926) and St. Louis Cardinals (1927 - 1928). He retired having compiled a .258 batting average, 1255 runs, 28 home runs, 884 RBI and 291 stolen bases. As a shortstop, he finished his career with a positional record 5,139 putouts.[3] He won his only World Series championship in 1914 as a member of the Braves, and won his only other National League championship in 1928 as a member of the Cardinals.
Maranville was inducted into the Baseball Hall of Fame in 1954, after 13 failed attempts.
References
Edit
↑ Nash, B. & Zullo, A. The Baseball Hall of Shame 3, 1987, ISBN 0-671-63386-4; p. 134
↑ Pietrusza, David; Matthew Silverman; Gershman, Michael (2000). Baseball: The Biographical Encyclopedia. New York: Total Sports, 707-708.
External links
Edit
Community content is available under
CC-BY-SA
unless otherwise noted.