This page has been copied from Wikipedia under the provisions of the GNU Free Documentation License.
Please help Baseball Wiki by revising it.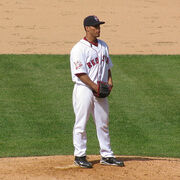 Ramón A. Ramírez (born September 16, 1982 in Cagua, Venezuela) is a Venezuelan Major League Baseball pitcher with the Boston Red Sox organization. He was signed by the Reds in 2004 and made his major league debut on August 30, 2008. Ramírez was acquired off waivers in the 2009 off-season by the Tampa Bay Rays[1], but was subsequently released on December 3, 2009 and awarded to the Red Sox on December 9 due to a waiver claim. [2] He was later sent outright to the minors on April 16, 2010.
References
External links