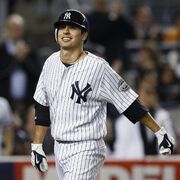 Ramiro Peña Gauna (born July 18, 1985, in Monterrey, Mexico) is a Major League Baseball utility infielder for the New York Yankees.
Baseball career
Edit
Peña was signed by the Yankees out of the Mexican League in 2005.[1]
In 2009, Peña made the Yankees opening day roster, beating out Angel Berroa to be the utility infielder.[2] He made his major league debut on April 6, 2009, appearing in the game as a pinch runner. On April 9 he got a hit in his first major league at bat, off Chris Ray of the Baltimore Orioles. On April 14 against the Tampa Bay Rays, Pena started his first career game at third base, going 0 for 3 with a walk.
On April 30, Peña got his first career run batted in in the bottom of the 8th inning against Justin Speier of the Los Angeles Angels of Anaheim by hitting a double down the right field line.
With the acquisition of Eric Hinske on June 29, 2009, Peña was optioned to Triple-A Scranton/Wilkes-Barre Yankees to get regular at-bats and learn to play in the outfield. Manager Joe Girardi said he expected Peña to be back with the Yankees later in the season.[3] He was recalled to the Yankees on August 7.
Peña hit his first major league home run on September 28, 2009 off of Kansas City Royals pitcher Luke Hochevar at Yankee Stadium. The Yankees present in the dugout when Peña connected quickly arranged, before Peña returned to his place on the bench, to act as if nothing had taken place and appear to give Peña the "silent treatment". On a signal from Jorge Posada, however, the silent treatment ended and the bench erupted in celebratory cheers for the rookie infielder.[4]
Peña was a member of the Yankees 2009 World Series championship team which defeated the Philadelphia Phillies in 6 games.
Cite error: <ref> tags exist, but no <references/> tag was found
Community content is available under
CC-BY-SA
unless otherwise noted.