This page has been copied from Wikipedia under the provisions of the GNU Free Documentation License.
Please help Baseball Wiki by revising it.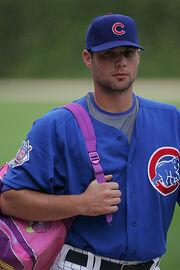 Randy David Wells (born August 28, 1982 in Belleville, Illinois) is a Major League Baseball pitcher for the Chicago Cubs.
Wells was drafted by the Chicago Cubs in the 38th Round (1143rd overall) of the 2002 amateur entry draft as a catcher. He spent his career in the Chicago Cubs farm system from 2003 to 2007 before being claimed in the Rule 5 Draft by the Toronto Blue Jays before the 2008 season. Wells made the opening day roster and made his debut on April 5, 2008, against the Boston Red Sox and pitched a scoreless inning. It was his only appearance for the Blue Jays because he was designated for assignment on April 10, 2008. Wells was returned to the Cubs organization on April 16, and was assigned to the Triple-A Iowa Cubs. [1] On September 9, 2008, the Cubs placed Jon Lieber on the 60-day DL and called up Wells to replace him on the roster.[2] After spring training in 2009, he was returned to the Iowa Cubs.[3] Wells was called up to the Cubs active roster on May 5, 2009 in place of the injured Carlos Zambrano. [4] He made his first start on May 8 against the Milwaukee Brewers and struck out five batters in five scoreless innings, but despite leaving the game with a 2-0 lead, the Cubs' bullpen gave up three runs and eventually lost 3-2. [5] Randy got his first Major League win on June 21 2009 in a 6-2 win over Cleveland.[6] On July 29, Randy became the first Cub rookie pitcher to win 7 games since Kerry Wood did it in 1998, when he threw 8 shutout innings in a 12-0 Cubs win over the Astros. In his time off the field, he enjoys songwriting and playing the guitar. [7]
==References==
==External links==

Community content is available under
CC-BY-SA
unless otherwise noted.