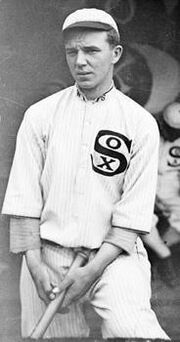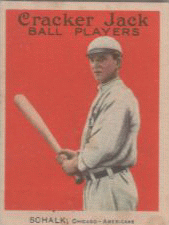 Raymond William Schalk (August 12, 1892 - May 19, 1970) was a Major League Baseball catcher noted for his fine handling of pitchers and remarkable defensive ability.
Born in Harvel, Illinois, Schalk made his major league debut in 1912 with the Chicago White Sox, playing 23 games behind the plate. He assumed the everyday role of catcher the following year, playing in 129 games, batting .244 and stealing 14 bases. Playing with the White Sox until 1928, Schalk established himself as one of the league's outstanding defensive catchers by leading the league's catchers in fielding percentage eight times and putouts nine times. He also established himself as one of the finest baserunning catchers of all-time, setting a single season stolen base record for the position in 1916 with 30 swipes which stood until John Wathan stole 36 bases in 1982. Schalk played on the 1917 world champion White Sox team and was one of the honest players on the 1919 Black Sox team, hitting .304 for the series.
Schalk's playing time diminished in 1927 as he assumed the role of manager, which he held into the 1928 season. Over the two seasons, he compiled 102 wins and 125 losses for a .449 winning percentage. Schalk moved to the New York Giants in 1929 but appeared in only 5 games before retiring. He finished his career with a .253 average, 579 runs, 11 home runs, 594 RBI and 177 stolen bases.
Schalk was selected to the Baseball Hall of Fame in 1955, along with Home Run Baker. He is buried in Evergreen Cemetery in Evergreen Park, Illinois.
External links
Edit
Community content is available under
CC-BY-SA
unless otherwise noted.