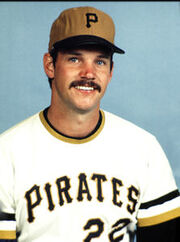 Richard Walter Zisk (born February 6, 1949 in Brooklyn, New York) was a Major League Baseball player for the Pittsburgh Pirates, Chicago White Sox, Texas Rangers, and Seattle Mariners from 1971 to 1983. Zisk was extremely good at driving in runs. In 1974, he had 100 runs batted in while only hitting 17 home runs. His best season however was in 1977, his lone year with the White Sox, when he hit 30 home runs and had 101 RBIs in addition to a .290 batting average. He retired after the 1983 season with 207 home runs, 792 runs batted in and a .287 batting average. He is 3rd in hime runs by a player whose last name begins with "Z" behind ATodd Zeile (242) and Gus Zernial (236). He currently serves as the hitting coach for the Daytona Cubs. The Daytona Cubs retired Richie's number 22 on July 20, 2007 with his family in attendance and on his bobblehead doll day.
Zisk played baseball at Parsippany High School.[1]
References
Edit
↑ Taveras, Danny. "Classroom a thrill for teacher: Students say Caprio gives and receives respect, offers encouragement", Daily Record (Morristown), November 9, 2004. Accessed May 14, 2007. "Caprio fondly recalls some of his former students who achieved success in the world of sports -- Joe Orsulak, the former professional baseball player, and Johnnie Morant, a recent graduate who is now a rookie playing football for the Oakland Raiders. 'My most famous student is Richie Zisk,' he says of the former professional baseball player."
External links
Edit
Community content is available under
CC-BY-SA
unless otherwise noted.