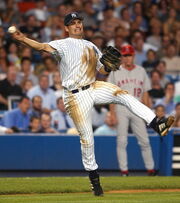 Robin Mark Ventura (Template:PronEng; born July 14 1967 in Santa Maria, California) is a former professional baseball player, a third baseman who played for four major league teams, most notably for the Chicago White Sox.
An outstanding performer on both offense and defense, Ventura became only the fifth third baseman – joining Ken Boyer, Ron Santo, Brooks Robinson and Mike Schmidt – to hit at least 250 home runs and win at least five Gold Glove Awards. He ranks 14th in major league history with 1887 games at third base, and his six career Gold Gloves place him behind only Robinson (16) and Schmidt (10) at his position. Baseball statistician and historian Bill James, in the 2001 revision of his Historical Baseball Abstract, chose Ventura as the greatest third baseman of the 1990s. He batted left-handed and threw right-handed.
Ventura was selected by the White Sox in the 1988 amateur draft and made his debut the following year. Ventura has a record 58-game hitting streak while in college. After spending ten seasons with the Sox (1989-98), he played for the New York Mets (1999-2001) and New York Yankees (2002-03) before joining the Los Angeles Dodgers late in the 2003 season. A patient hitter with a smooth stroke, Ventura was capable of reaching the fences from left-center to the right-field line. Despite a declining batting average late in his career, he continued to contribute with solid glovework, left-handed power and plenty of walks. As a fielder, Ventura was among the premier players at his position, leading the American League four times each in double plays and total chances, three times in putouts and twice in assists; he also led the National League in assists, total chances and fielding percentage once each. Few were better at charging and fielding bunts bare-handed.
At the conclusion of the 2004 National League Division Series, with the Dodgers eliminated from contention, Ventura announced his retirement from baseball. He finished his 16-year career with a .267 batting average, 294 home runs and 1182 RBI in 2079 games. Ventura wore knee-high socks much of his career and is also remembered for charging the mound after being hit by a pitch hurled by Nolan Ryan in a 1993 game; Ryan put him in a head-lock.
Robin Ventura was inducted into the College Baseball Hall of Fame in 2006.
Early years
After attending Righetti High School in Santa Maria, California, Ventura's rise to fame began as a 3-time All-American at Oklahoma State. After leading the nation in runs (107), RBI (96) and total bases (204) in 69 games as a freshman in 1986, he had an NCAA-record 58-game hitting streak (since surpassed) in 1987, shattering the previous record of 47; he also led Division I in RBIs for the second year in a row. His hitting streak remains the Division I record, though his mark was surpassed by Damian Costantino of Division III Salve Regina University in 2003.[1] Ventura's hitting prowess helped OSU reach the finals of the 1987 College World Series, although they lost the championship game to a Stanford team that included future teammate Jack McDowell; Ventura didn't go quietly, collecting four hits – including a pair of doubles – in the final game and batting .364 for the Series. In 1988 he earned a spot on the gold medal-winning Olympic baseball team, batting .409 during the tournament, and won both the Golden Spikes Award and the Dick Howser Trophy for outstanding collegiate play, concluding his 3-year OSU career with a .428 batting average, a .792 slugging percentage, and 302 RBIs. On July 4, 2006, Ventura was inducted into the College Baseball Hall of Fame as a member of its inaugural class.
After being picked tenth in the 1988 draft by the White Sox, Ventura spent much of 1989 at AA Birmingham before joining the Sox that September. While in Birmingham, he earned a spot in the Southern League All-Star Game and was voted the league's top defensive third baseman. He was named to the Topps Major League Rookie All-Star Team, earned the starting third base role with the White Sox the next spring and essentially never looked back. While his 1990 rookie year was marred by an 0-for-41 slump and 25 errors, Ventura proved to be a quick learner. Despite the slump, his 123 hits were the most by a Sox rookie since Ozzie Guillén in 1985; he also led AL rookies with 150 games played. The next year he won his first Gold Glove Award for fielding excellence, set a team record for RBIs at third base, and led the AL in putouts. 1992 brought another Gold Glove, a spot on the All-Star team – collecting an RBI double and a single on his 25th birthday – and several league-leading marks in both offensive and defensive categories. It is notable that as a major league player, Ventura was turning initial expectations on their head, as he had been projected to be a consistent .300 hitter, but with only limited power and modest defensive ability.
1993 saw his batting average drop 20 points to .262, though both his slugging and on-base percentages rose slightly. Ventura also collected his 500th hit that May and won his third straight Gold Glove, while becoming the first AL third baseman with three consecutive 90-RBI campaigns since Graig Nettles (1975-78). However, the enduring image many people recall from 1993 is his skirmish with Nolan Ryan, the hardthrowing Texas Rangers legend who plunked him in the ribs during a summer game. When Ventura charged the mound in protest, Ryan seized him in a headlock with his left arm and landed six blows to the head and face of the younger player before Rangers catcher Iván Rodríguez separated the two players. Ventura and White Sox manager Gene Lamont were then ejected from the game. The result was a two-game suspension and criticism from commentators who sided against the normally calm infielder. Even the Sox' appearance in the ALCS that year, Ventura's only playoff trip while in Chicago, could not diminish the memory of the incident.
1994 was another fine season for Ventura, only minus the Gold Glove. The strike that year not only prevented him from reaching 90 RBI for the only time between 1991 and 1996, but also wiped out the division-leading Sox' chance of making the postseason; when play resumed in 1995 it seemed rust had set in: Ventura had ten errors in the first ten games. He spent some time at first base that year amid trade rumors, but ended the year with a career-high .295 average, and on September 4 hit two grand slams in one game, the eighth player in history to do so and the first since Frank Robinson in 1970. The next season he won his fourth Gold Glove, reached new highs in fielding percentage, homers and RBIs, and set team records in career homers by a third baseman (142) and grand slams (9).
When spring training began in 1997 the White Sox were picked by many to win their division, thanks in part to Ventura. However, on the night of March 21 in a spring training game at Ed Smith Stadium, he slid into home plate and caught his foot in the mud, suffering a seriously broken and dislocated right ankle. Ventura's foot was gruesomely twisted and the incident caused his wife, Stephanie, to run onto the field just seconds after. The initial prognosis was that he would be lost for the season; the news dashed the Sox' hope of contending. Amazingly, with help from team trainer Herm Schneider, and much pure grit and determination, Ventura returned on July 24, more than a week ahead of the most optimistic predictions. He collected the game-winning hit that night, and homered in his first at-bat the next evening. Had team owner Jerry Reinsdorf not traded three of the Sox' pitchers a week later, they may well have reached the playoffs, but no one will ever know if the object lesson Ventura's triumphant return provided had any effect, thanks to the "White Flag Trade". The trade winds almost blew him out of town, too: after speaking out against the pitchers' leaving, he was placed on Reinsdorf's "hit list". Only his recent injury and some swift work by general manager Ron Schueler kept him in Chicago.
1998, Ventura's final season with the Sox, was mixed: he won his fifth Gold Glove, but only hit .263. His homer and RBI totals weren't far off his career averages, but the Sox attempted repeatedly to trade him and declined to renew his contract, with Reinsdorf claiming that he was "deteriorating". Despite setting career highs in games played and triples, not to mention leading the league in chances yet again, Ventura finally departed on December 2 when the New York Mets signed him to a four-year deal.
Move to New York
Most of the Mets' previous 114 third basemen were too old, too young, too inept or just too dull to merit attention, so even an average season by Ventura would have been outstanding, but he had his best year ever, hitting .301 with 120 RBIs and only nine errors; he also hit 32 homers. On May 20 he became the first player ever to hit a grand slam in each game of a doubleheader. He and fellow infielders Edgardo Alfonzo, Rey Ordóñez and John Olerud were featured on the cover of Sports Illustrated as the "Best Infield Ever"; Mets fans took to chanting "MVP! MVP!" when he batted. Unfortunately, he injured his left knee some time in August; when the problem finally came to light, just before the postseason, it had worsened to torn cartilage. He took the phrase "Mojo Risin" from The Doors' "L.A. Woman" and made it the rally cry for the Mets that year, meeting Doors lead singer Jim Morrison's widow Patricia Kennealy Morrison when the Mets invited her to a game just before the playoffs.[2]
Normally players with such a serious injury would be a detriment, but not Ventura. Not only did he provide a game-winning, bases-loaded, two-out single in the eleventh inning against the Pirates on the final weekend of the regular season to propel the Mets back into the Wild Card chase, but every Mets fan remembers October 17, 1999, Game 5 of the NLCS. The series-leading Atlanta Braves were up 3-2 in the fifteenth; it was cold and raining. A bases-loaded walk to Todd Pratt forced in the tying run and brought Ventura to the plate; the active grand slam leader first worked the count to his favor then smacked a home run into right-center field. Pratt, however, didn't see the ball leave the park and ran back to first base, hoisting Ventura into the air and lugging him off the field before he could round the bases. The hit was officially scored an RBI single, commonly referred to as the "Grand Slam Single". The Mets lost the next game, but the message was clear: even when hurt, Ventura still could come through. He won his first NL Gold Glove that fall, bringing his total to six.
2000 was spotty for the good-natured third baseman, still recovering from off-season surgery on both his knee and right shoulder, which had been hurt during the playoffs. He only hit .232, but had 24 homers and 84 RBIs. He spent part of July on the disabled list with inflammation in his repaired shoulder, and was plagued with errors; but rebounded to hit .320 with three homers and 13 RBIs in the last two weeks of the season. When the Mets reached the World Series, he assisted in their only win by homering off the Yankees' Orlando Hernández. The next year was even spottier: .237, 21 homers, only 61 RBIs and insinuations that he was out of shape and too old to rebound. Still, Ventura did provide some dazzling moments, including a two-homer performance against Atlanta on Opening Day, his fifteenth grand slam, and a classic late hot streak (.288, 11 RBIs and three homers). The Mets' front office, though, was under fire over the team's third-place finish and Ventura took the fall: on December 7, 2001, they traded him to the Yankees.
Under manager Joe Torre, Ventura enjoyed a renaissance in 2002. A slight slump kept his average at .247, but his homers and RBIs totaled a respectable 27 (including another grand slam) and 93, the eighth time he topped 90 RBI. He was selected to the All-Star team. He did, however, have the lowest fielding percentage of all third basemen in the major leagues, .941. The Yankees lost the Division Series that October, but in those four games he hit .286 with four RBIs. The next season began badly: he was platooned with Todd Zeile, another former Met, at third, though Torre claimed such an arrangement didn't really exist. Unable to get into a hitting groove, Ventura struggled through the first few months of the year; by late July he was in a rut with only nine homers and 42 RBIs to his credit. He tied Shea Hillenbrand for the major league lead in errors by a third baseman, however, with 23.[1]
Close of career
Template:Inappropriate tone On July 31, 2003, Ventura was sent to the Los Angeles Dodgers in exchange for Bubba Crosby and Scott Proctor. LA's manager, Jim Tracy, wanted little part of the new acquisition: he was a lefty hitter on a team already heavy with left-handed bats; they already had a third baseman, the underachieving Adrián Beltré; and Ventura's average was unimpressive, only .251 at the time. Despite hitting an inside-the-park home run on August 3 and providing not only smooth defense at first base but also key RBIs and a professional air to the Dodgers' clubhouse, by mid-September Ventura was unwittingly caught in a power struggle. Tracy had been feuding with the team's GM, ex-Sox man Dan Evans, for weeks before Evans acquired Ventura — what better way to show displeasure with Evans than to essentially bench his latest find? For 16 straight games, Ventura's contributions were limited to an occasional at-bat or ninth-inning defensive cameo. Once news of the feud leaked out thanks to reporter Bob Nightengale, he was given more playing time, but the damage was done.
Re-signed by LA in December, Ventura entered 2004 with a chance to be the Dodgers' starting first baseman, but that changed during the last week of spring training when new general manager Paul DePodesta traded for troubled Cleveland outfielder Milton Bradley, setting off a domino effect that ended in Ventura being relegated to a bench role, that of occasional backup infielder and pinch hitter. He had a game-winning RBI in the second game of the season, but it took over two months for him to hit his first homer, and he only had five the entire year, two of which were pinch game-winners. His best moments came on August 29 and September 7, when he hit his seventeenth and eighteenth grand slams, becoming the third-best grand slam hitter ever; another "highlight" was his pitching debut on June 25 during a blowout loss against the Anaheim Angels, only allowing a single amid three fly ball outs. The Dodgers made it to the NLDS but lost in four games, and by that time, severe arthritis in Ventura's right ankle had made retirement the only option. He quietly called it quits on October 10, after going 0-for-1 in the final game of the Division Series.
Perhaps the feature his fans most admired about Ventura is his character: even in difficult times, even in his last season as age took its toll, he always kept an even keel and was an exemplary figure for his teammates. With an unassuming demeanor and a workmanlike sensibility on the field, he gained the reputation as a leader on every team he played for; reporters used words like "sagacious" and "savvy" to describe his intelligent perspective on baseball and life, and even those who hadn't directly covered him in years wrote glowingly of him upon learning of his retirement. Fans loved him for his quick wit and integrity; managers loved him for his determination, and teammates loved him for his ability to inspire them to greatness and his delightful sense of humor. He may eventually earn serious consideration as a Hall of Fame candidate, although the Hall's voters have a long-established reputation for overlooking third basemen; but to many baseball experts, Ventura was nonetheless a consistent winner.
Post-career rehabilitation
Ventura's 1997 ankle injury - a compound fracture and dislocation - also affected his leg muscles, which began to atrophy following the accident. For years, Ventura took regular cortisone shots to get through the pain, even taking an average of one per month during his final season. However, full strength in his leg never returned, and the daily pain from his ankle and leg contributed to Ventura's decision to retire from baseball. After retirement, Ventura limped badly and was forced to walk with a cane regularly. On November 18, 2005, Ventura underwent an ankle allograft, a unique procedure that replaced his mangled ankle bone with an exact-sized match from a cadaver. Following the surgery and rehabilitation, Ventura now walks without pain and without a limp. He also sometimes appears on ESPN University as an anchor.[3]
Highlights
Golden Spikes Award (nation's best amateur player) (1988)
2-time All-Star (1992, 2002)
6-time Gold Glove winner at third base (1991-93, 1996, 1998-99)
Hit

two grand slams

in one game (September 4, 1995)
Only player to hit one grand slam during each end of a double-header (May 20, 1999)
Hit 18 career grand slams, placing him in a tie with Willie McCovey for 4th on the all-time list, behind Lou Gehrig (23), Manny Ramírez (20), and Eddie Murray (19). 6.1% of his career home runs were grand slams, the highest ratio of any player with at least 250 career home runs.
Hit a "

Grand Slam Single

" in the 1999 NLCS against the Atlanta Braves (see walk-off home run)
Named American League Player of the Month, July 1991
Career rankings
Third basemen with most 90-RBI seasons
Mike Schmidt - 11 (1974-77, 79-81, 83-84, 86-87)
Eddie Mathews - 10 (1953-57, 59-62, 65)
Pie Traynor - 8 (1923, 25-31)
Ken Boyer - 8 (1956, 58-64)
Ron Santo - 8 (1963-70)
Robin Ventura - 8 (1991-93, 95-96, 98-99, 2002)
Note: Schmidt also had one 90-RBI season as a first baseman.
Third basemen with highest career slugging average (Minimum 1500 games at 3B)
See also
List of AL Gold Glove Winners at Third Base

List of NL Gold Glove Winners at Third Base

Golden Spikes Award

Dick Howser Trophy

Batters with two grand slams in the same baseball game
References
External links
Awards and achievements
Preceded by:


Craig Worthington

Topps Rookie All-Star Third Baseman


1990
Succeeded by:


Leo Gomez