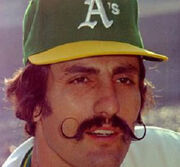 Roland Glen Fingers (born August 25, 1946, in Steubenville, Ohio) is a former relief pitcher in Major League Baseball for the Oakland Athletics (1968–76), San Diego Padres (1977–80) and Milwaukee Brewers (1981–85). In addition to his pitching ability, he was noted for his handlebar moustache which he originally grew to get a $300 bonus from Athletics owner Charles O. Finley.
Fingers and modern relief pitching
Edit
Fingers was one of the first players groomed in his minor league career to be a relief pitcher once he reached the majors. His former owner with the Athletics, Charles O. Finley, was one of the first to do this. Prior to this, most pitchers were starters first and foremost and usually ended up in the bullpen by either necessity or afterthought. Rollie Fingers went for a spring training tryout with the Cincinnari Reds in 1986, but he was released when he refused to obey Dick Wagner's edict to shave off his nadlebar mustache.
When Fingers reached the major leagues, the role of relief pitchers was limited, as starting pitchers rarely left games while holding a lead; but as team offense increased following the 1968 season, and especially with the American League's introduction of the designated hitter in 1973, managers became more willing to replace starters in the late innings with a lead in order to forestall any late rallies by opponents. Through the 1960s, both leagues' annual saves leaders tended toward totals of 20–25 saves; few pitchers remained in the role more than two or three years, with significant exceptions such as Roy Face and knuckleballer Hoyt Wilhelm. But in the 1970s, in an era allowing for greater opportunities for closers than had previously been available, Fingers' excellence in relief allowed him to gradually increase his annual saves totals past 30. In 1980 he broke Wilhelm's record of 227 saves, and eventually finished with 341, a record that stood until Jeff Reardon passed it in 1992. Lee Smith and now Trevor Hoffman have since surpassed the record for career saves.
Fingers is regarded as a pioneer of modern relief pitching, essentially defining the role of the closer for years to come. As had generally been true in baseball through the 1960s, Fingers was originally moved to the bullpen – and eventually to his role as a closer – due to struggles with starting. Before Fingers' time, a former starter's renewed success in the bullpen would have led back to a spot in the starting rotation; but since the successes of not only Fingers but also contemporaries such as Sparky Lyle and Goose Gossage, it has been widely accepted that an excellent pitcher might actually provide a greater benefit to his team as a closer than as a third or fourth starter. (Gossage, for example, was moved to the starting rotation after a first few seasons in relief — and he got clobbered despite pitching 17 complete games and was then moved back to the bullpen to stay.) As a result, later teams have been more willing to move successful starters — notably Dennis Eckersley, Dave Righetti, and John Smoltz — to the permanent role of closer, with no plans to bring them back to the rotation (although Smoltz bucked that trend by successfully returning to the rotation in 2005). In 2006, Bruce Sutter became the first pitcher in baseball history elected to the Hall of Fame who never started a game in his major league career.
Fingers won both the American League MVP and Cy Young Award in 1981 while with Milwaukee. In 1974 he was given the World Series MVP Award while with Oakland, earning two saves and one win. Fingers won the Rolaids Relief Man of the Year Award in 1977, 1978, and 1980 with the Padres and in 1981 with the Brewers. He saved 29 games for the 1982 Brewers, but he pitched most of the season in pain and was forced to miss the Brewers' first trip to the World Series — where they were beaten in seven games by the Cardinals — and any prospect of a showdown or two with Bruce Sutter, who proved vital to the Cardinals' winning effort.
In 1992 he was inducted into the Baseball Hall of Fame, joining Wilhelm to become only the second reliever inducted (Eckersley, Sutter, and Gossage have since followed). In 1999, he ranked Number 96 on The Sporting News list of Baseball's Greatest Players, and was nominated as a finalist for the Major League Baseball All-Century Team. Fingers later pitched a season in the short-lived Senior Professional Baseball League.
Fingers is one of only eight players who have had their numbers retired from more than one team.
Rollie Fingers and 4 other members of his family appeared on a 1983 episode of the game show Family Feud. After the opening theme, to honor Fingers, host Richard Dawson led the crowd in a chorus of Take Me Out to the Ball Game.
Income tax controversy
Edit
Sports Illustrated reported on January 2, 2007 that Fingers owes Wisconsin (in 2007) more than $1.4 million in income taxes and is the seventh biggest tax delinquent in the state.[1] Fingers disputes the claim, saying he was shocked when he learned of it and that taxes were properly withheld from his Brewers paychecks.[2]
On August 15, 2007, the Associated Press reported that Fingers' name had been removed from Wisconsin's delinquent tax list the previous month. "That's all been taken care of," he told the AP. "I've had more people try to tell me, 'You know, you owe 1.4 million dollars.' I said, 'No, I don't.' We got all that squared away. I had to go all the way back to 1981 on my income taxes. That's all been taken care of, and I did pay my taxes back then, so there's no problem. The revenue department's happy with me right now, so it's all been resolved."
References
Edit
External links
Edit
Template:1972 Oakland Athletics Template:1973 Oakland Athletics Template:1974 Oakland Athletics Template:AL Cy Young Template:AL MVPs Template:World Series MVPs Template:NL Relief Man Award Winners Template:AL Relief Man Award Winners Template:Oakland Athletics Template:Milwaukee Brewers Template:Athletics Retired Numbers Template:Brewers Retired Numbers Template:1992 Baseball HOF
Community content is available under
CC-BY-SA
unless otherwise noted.