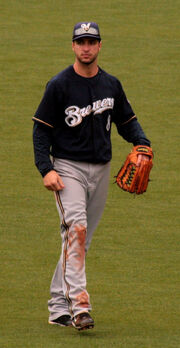 :
This article is about the Brewers' left fielder. For the Royals' pitcher, see Ryan Braun (pitcher)
.
Ryan Joseph Braun, nicknamed The Hebrew Hammer (born November 17, 1983, in Mission Hills, California), is an American right-handed left fielder who broke into baseball's Major Leagues with the Milwaukee Brewers in 2007.[1]
He won the National League Rookie of the Year Award in 2007, during which he led the National League in slugging percentage. He also won the Sporting News NL Rookie of the Year, the Baseball America Rookie of the Year, the Baseball Prospectus Internet Baseball NL Rookie of the Year, and the Players Choice NL Most Outstanding Rookie Awards. Over the prior decade, the only other NL hitter to win all 5 awards was Albert Pujols, in 2001.
Heritage and early life
Edit
Jewish heritage
Edit
Braun's father, Joe, is Israeli-born,[2] and immigrated to the United States at the age of seven.[3] Braun's mother, Diane, is not Jewish, and therefore, according to Halakha, Braun is not Jewish. Nevertheless, Braun considers himself Jewish: "It's something that draws a lot of interest and something I take pride in," Braun said.[4] His nickname is "The Hebrew Hammer"[5][6][7] which references his Jewish heritage and former Brewer Hank Aaron whose nickname was "Hammerin' Hank". It is also the nickname of teammate Gabe Kapler,[8] and in the past was a nickname for Al Rosen[9] and Hank Greenberg.[10]
He is one of the highest-drafted Jewish ballplayers in the history of professional baseball. The New York Yankees made Ron Blomberg the number one pick in the 1967 draft. Braun was considered the best Jewish minor league baseball prospect in 2006,[11] and became major league baseball's first Jewish Rookie of the Year the following season.[12] In 2007, Braun hit more home runs (34) than all but 3 of the top 10 career Jewish home run hitters had hit in their best seasons. Only Hank Greenberg (58), Shawn Green (49), and Al Rosen (43) hit more in a single year.
"Braun" was, coincidentally, the family name of Sandy Koufax, until his mother remarried and he took his stepfather's name. "There's no (family) connection that I know of," Braun said "but it's kind of cool."[4] In another coincidence, Braun lived for a time with his maternal grandfather in a house that previously belonged to Jewish Hall of Fame outfielder Hank Greenberg.[3] Braun's grandfather has lived in the house for over 40 years.[13]
In December 2007 Braun was the only Jewish athlete invited by President George W. Bush to the annual Hanukkah Dinner at the White House.[14]
High school
Edit
Braun was a 4-year letterman on the Granada Hills High School baseball team, and 3-year team captain and MVP. He played shortstop, and also pitched until his junior year. As a sophomore in 2000 he recorded the highest batting average of his prep career (.456), while posting a .654 on base percentage. During his junior year he hit .421, with a .668 OBP. Braun capped off his high school career by batting .451 as a senior, with an OBP of .675, and breaking the school record for career home runs (with 25).[15]
He was a two-time all-area selection by the Los Angeles Times, and a three-time choice by the Los Angeles Daily News. Braun was rated the 6th-best shortstop prospect in the country by Team One Baseball as a senior,[16] and rated among the top 100 overall prospects by Baseball America. He graduated in 2002, but went undrafted as he told teams that he intended to go to college.[17][18]
Offered scholarships to Stanford University and UC-Berkeley, he instead attended the University of Miami. He chose Miami for its academics, its athletics, and its social scene, noting: "I think the girls were the deal closer on the recruiting trip."[19] There, Braun was named "National Freshman of the Year," as well as a 1st-team "Freshman All-American," by Baseball America in 2003. He was also named 1st-team All-American by Collegiate Baseball.[17] He clinched the awards by batting .364 with 76 RBIs and 17 home runs. As a sophomore shortstop/DH, Braun hit .335 and slugged .606, stealing 21 bases.
During his junior year, his final and most successful at Miami, Braun batted .396 with 18 home runs, a .726 slugging percentage, 76 RBIs, and 23 stolen bases. He was 9th in slugging, and 10th in RBIs, in NCAA Division I, and was named to Baseball America's 2005 College All-American Team as the DH. He moved from shortstop to third base during the year. His performance earned Braun a spot as one of the finalists for the Golden Spikes Award, the most prestigious individual award in college baseball.[17]
Minor leagues (2005-07)
Edit
The Milwaukee Brewers drafted Braun in the 1st round (5th overall) in the 2005 Amateur Baseball draft as a third baseman, and Braun signed for $2.45 million.[20] Assigned to the Helena Brewers in the Advanced Rookie Pioneer League in 2005, Braun batted .341/.383/.585 in 10 games. He was then promoted to the West Virginia Power in the Single-A South Atlantic League, where he hit .355/.396/.645, and was rated the 5th-best prospect in the league. His most famous moment there was when he hit a walk off grand slam to win the Power a series in the playoffs.[21]
Braun began 2006 playing for the A-Advanced Brevard County Manatees, where he earned a spot in the Florida State League All-Star game, and played in the All-Star Futures Game in Pittsburgh. He was rated the top third base prospect in the FSL, and Baseball America rated Braun the best batting prospect in the league. On June 21, Braun was promoted to the Class AA Huntsville Stars (Alabama) of the Southern League. In July he was voted the Brewers' Organizational Player of the Month, and at the end of the season he was voted the 6th-best prospect in the Southern League.[22] Collectively between Class A and Class AA, Braun finished with a .289 average, 22 home runs, 77 RBIs, and 26 stolen bases. He received the 2006 Robin Yount Performance Award as the Milwaukee Brewers Minor League player of the year.[23]
In 2006 in the Arizona Fall League he hit .326/.396/.641 in 92 at-bats for the Scottsdale Scorpions, and was rated as one of the top three prospects in the league.[24] He led the AFL with 16 extra-base hits, tied for tops with 9 doubles, ranked 2nd in slugging percentage and HR/AB ratio (1/15), tied for 2nd in home runs (6), tied for 3rd in RBIs (25), and was voted to the AFL All-Prospects Team.[25]
Baseball America rated Braun the Brewers' # 2 prospect for 2007.[26] He began the year with the Nashville Sounds of the AAA Pacific Coast League. Before being called up to the majors in late May, in 113 at bats he led the PCL with a .726 slugging percentage while batting .354 (6th), with 10 home runs (T-2nd) and a .426 on base percentage (5th). At the same time, Craig Counsell and Tony Graffanino were batting a combined .214 while playing third base for the major league club.[27]
Major leagues
Edit
Milwaukee Brewers (2007-present)
Edit
Spring training
Edit
The Brewers brought Braun to spring training in 2007.[24] Their regular third baseman Corey Koskie, suffering from post-concussion syndrome, missed all of spring training -- he later ended up missing the entire season.[28] While the Brewers intended to platoon veterans Counsell and Graffanino to start the season, they also gave Braun an extensive look. In his first spring training game, Braun went 4-5 with a grand slam, a 3-run home run, a double, a single, and a stolen base, along with 7 RBIs; a triple shy of hitting for the cycle. In his second game he went 2-5 (including a 3rd home run) with a walk.[29] In 11 games he batted .353 with a .912 slugging percentage, tying for 10th in the majors in home runs (5), and 2nd in RBIs (15), despite having missed 7 games.[30] He also committed 4 throwing errors. He was sent to minor league camp on March 20th, with Brewers' manager Ned Yost commenting: "He's really done a nice job offensively, but he still needs to polish some of his defense. He knows what he needs to do. He's really, really close."[31]
Regular season
Edit
In 2007 Braun had one of the most dominant rookie seasons in the history of the game.[32]
On May 24th, Braun was called up to the Brewers.[33] He hit his first major league home run two nights later, off Padres' starter Justin Germano.[34]
His rookie hazing took place on his first full road trip after being called up. "I had to carry bags. I had to sing on the bus." With headphones to his iPod plugged into one ear, he sang "On Bended Knee" and "Water Runs Dry" by Boyz II Men. "I was into it, but I don't think my voice was too great. I feel like I'm going to have to dress up soon."[19] That did in fact happen later; in September he was inducted into the annual rite of Brewers' rookies being required to put on silly costumes, and wore a hot dog costume for a team flight to Atlanta.[35]
Braun was voted the National League Rookie of the Month for June, after leading all N.L. rookies with 21 RBIs. He hit 6 home runs, tying him for 1st among N.L. rookies, while recording a .716 slugging percentage and a .435 on base percentage.[36] In July he was voted the National League Rookie of the Month for the second straight month, as well as the NL Player of the Month (marking the first time a player won both awards in the same month). He hit a league-leading 11 home runs, with 25 RBIs, while batting .345.).[37]
In mid-August, Yost moved Braun from 3rd in the lineup to cleanup, switching him with Prince Fielder. The move was expected to allow Braun to run more, inasmuch as when he hit in front of Fielder it did not make sense for him to steal many bases, because the opposing team would then counter by walking Fielder. The switch also allowed Yost to move left-handed Geoff Jenkins up in the batting order, behind the right-handed Braun.[38] At the end of August, however, Yost reversed the switch.[39]
On September 9th, the Brewers became the third team in major league history to open a game with three straight home runs, as Rickie Weeks, J. J. Hardy, and Braun connected off Cincinnati Reds' starting pitcher Phil Dumatrait in consecutive at bats. "That was pretty cool," Braun said. "I was never part of something like that before."[40]
In September, as the Brewers sought in vain to capture the pennant, he was 3rd in the NL in runs (27) and RBIs (29), and tied for 5th in home runs (9), while batting .308 with a .644 slugging percentage.[41]
Season Stats. In 2007, during which he played in 113 games and had 492 plate appearances, Braun led the National League with a .634 slugging percentage. He set a new all-time major league rookie slugging percentage record, breaking the record set by Mark McGwire, who slugged .618 for Oakland in 1987.[42]
He was also was 5th in the league in at bats per home run (13.3; behind Ryan Howard, Prince Fielder, Barry Bonds, and Adam Dunn) and OPS (1.004; behind Bonds, Chipper Jones, Fielder, and Matt Holliday), tied for 5th in home runs (34; behind Fielder, Howard, Dunn, and Holliday), and 8th in batting average (.324) among hitters with at least 490 plate appearances.[43]
He also led the Brewers in batting average and slugging percentage, and was 2nd behind Fielder in home runs, runs (91), and RBIs (97), tied for 2nd in triples (6), and 3rd in obp (.370) and steals (15) -- despite not having played in the first 48 games of the season.[1] Braun obliterated the club rookie records of 28 home runs and 81 RBIs, set by Fielder in 2006.[44] A projection of his statistics over 162 games put him at 49 homers and 139 RBIs.[45]
"My family and friends know my stats more than I do," Braun said. "I'll look at that stuff at the end of the season."[46]
Against Lefties. Braun also had success against left-handed pitchers. Against them, he had the best batting average (.450), obp (.516), and slugging percentage (.964; over 200 points ahead of the second-best SP) of all major league hitters with at least 125 plate appearances against lefties, and was tied for 2nd in the major leagues in home runs (15).[47][48] "I like those guys," Braun joked.[49] Braun credits his father. "I see the ball pretty well off lefties," he said. "My dad is left-handed, so growing up, the majority of time, I took batting practice off of him."[50]
Home Run Pace. On July 7th Braun became the fastest Brewer ever to hit his 10th major league home run, hitting it in his 38th game, shattering the previous record of 61.[51] He hit his 15th home run in the 50th game of his career, and his 20th in his 64th game, making him the fastest to 15 and 20 since Albert Pujols got there in the 49th and 63rd games of his career in 2001.[52][53] He was also the fastest to 20 in Brewers history. He hit his 25th home run in his 82nd game, quicker than any player since Mark McGwire in 1987,[54] becoming just the 21st player ever to hit that many homers as a rookie.[55] He broke the Brewer rookie record of 28 home runs on September 9th.[56] Braun hit his 30th home in his 94th game. No player had hit as many homers in so few at-bats since Mark McGwire hit 30 in 84 games during the 1986 and 1987 seasons.[57] His 34 home runs for the season were just 4 behind the NL rookie record of 38 home runs, shared by Frank Robinson (1956) and Wally Berger (1930),[58] and were the fifth-highest total ever for an NL rookie.[59]
NL Batting Title Race. Braun had the 8th-highest batting average in the National League in 2007, among players with 490 or more plate appearances. He finished with 492 plate appearances, 10 short of the number needed to qualify for the NL batting title. Though he didn't have a high enough batting average to take advantage of it, an exception to the qualification rule kicks in and a player is awarded the title if he falls short of 502 plate appearances, but would still have the highest batting average if enough hitless at-bats were added to his total to enable him to reach the 502 mark. Under this "exception," he was able to qualify for the slugging percentage title (which he won) with less thatn the requisite plate appearances.
Season awards
Edit
NL Rookie of the Year. Braun won the 2007 National League Rookie of the Year Award in a vote by 32 members of the Baseball Writers' Association of America, two from each National League city. Braun beat Tulowitzki, 128 points to 126 points, in the closest NL vote since the system was revised in 1980.[60] Braun admitted that he had trouble sleeping at his Santa Monica condo the night before the announcement of the winner, wondering how it would turn out. "I finally got up around 6 a.m. and went for a jog, trying to work off some nervous energy," he said. "It's just incredible. It speaks to what Troy Tulowitzki did, also. It's very exciting."[61]
In 2007, Braun led all NL rookies in batting average, on-base percentage, slugging percentage, OPS, extra base hits, home runs, and at bats per home run. He was 2nd in RBIs and runs (behind Troy Tulowitzki; 2 and 10 fewer, respectively, in 158 fewer at bats) and in triples (behind Hunter Pence), 3rd in hits, and tied for 4th in stolen bases.[62]
He was 4th in strikeouts (behind Young, Tulowitzki, and Mark Reynolds; with the highest strikeout ratio of rookies with at least 400 at bats, at 24.83%; Young was 2nd, at 24.78%), 3rd to Carlos Ruiz (in 77 more at bats) and Tulowitzki (in 158 fewer at bats) in grounding into double plays (13), and tied for 5th in caught stealing (5).[63] Braun had only a 4.8 WARP3 (WARP3 is a metric that measures offensive and defensive production) for the season;[64] Tulowitzki had a 10.8 WARP3 rating.[65]
Since 1947, Pujols was the only other NL rookie to hit at least .320 with 30 homers.[66] Of all prior NL Rookies of the Year, only Pujols and Willie McCovey hit for higher batting averages in their rookie year.[67]
By the All Star Break, Braun was considered the first-half NL Rookie of the Year by Ken Davidoff of New York Newsday.[68] In mid-August, The New York Times and the Los Angeles Daily News opined that Braun was the leading candidate for the NL Rookie of the Year award.[69][2] as did USA Today[3] The same view was voiced in September by a writer for ESPN (at least, his view as to how the voters would vote),[70] and a writer for Sports Illustrated who wrote that Braun "will certainly win NL Rookie of the Year honors, as [he] is the best rookie in either league,"[71] as well as a writer for the Cincinnati Enquirer.[72]
Sporting News NL Rookie of the Year. Braun was voted the 2007 NL Sporting News Rookie of the Year Award. The vote was by 488 major league players and 30 managers.[73][74]
Baseball America Rookie of the Year. Braun was awarded the 2007 Baseball America Rookie of the Year.[75]
Players Choice NL Most Outstanding Rookie. Braun was voted the 2007 Players Choice NL Most Outstanding Rookie, in a vote by his fellow major league players.[76] "When your peers recognize you with an award, that's great," he said. "Those are the guys out there on the field with you, competing against you. Their opinion counts the most, for a player."[77]
Baseball Prospectus Internet Baseball NL Rookie of the Year. Braun won the Baseball Prospectus 2007 Internet Baseball NL Rookie of the Year Award. He had 666 first place votes, versus 487 for Tulowitzki and 16 for Pence.[78]
Topps Rookie All-Star Third Baseman. Braun was a unanimous selection as the 2007 Topps Rookie All-Star Third Baseman. The selection was the result of the 49th annual Topps balloting of Major League managers.[79]
Brewers' Top Newcomer. In October, he was voted the Brewers' Top Newcomer. The award was voted by the Milwaukee chapter of the Baseball Writers Association of America.[80]
NL MVP vote. Braun was mentioned as a top NL MVP candidate by writers at Sports Illustrated,[81] ESPN,[82] The Philadelphia Inquirer,[83] and the Philadelphia Daily News.[84] In the end, he received two 10th place votes.[85]
This Year in Baseball Rookie of the Year vote. Braun finished third in the This Year in Baseball Rookie of the Year Award voted on by fans, with 22.3% of the vote, behind Tulowitzki (27.6%) and Dustin Pedroia (26.3%).[86]
The Bill James Handbook projections for Braun for 2008 are: .326 batting average (3rd, behind Pujols and Hanley Ramirez), 46 homers (2nd, behind Ryan Howard), 122 RBIs (3rd, behind Howard and Pujols), 121 runs, 20 steals, and a 1.042 OPS. That would put Braun in the top three in each of the Triple Crown categories.[87] Braun will hit cleanup, behind Fielder, giving him more opportunities to steal.[88][89][90]
In March the Brewers renewed Braun's contract for $455,000, a $75,000 increase.[91]
In spring training, Braun hit .368/.431/.719, and tied for 3rd in the NL in home runs with 5, and 7th in RBIs with 16, while playing in only 22 of the Brewers' 29 games.[92]
On June 1st, to celebrate "Dairy Day," each person who attends the Brewers' home game against the Houston Astros will receive a collectible Ryan Braun bobblehead.[93]
On May 15, 2008, Ryan Braun signed an 8-year contract extension through the year 2015 worth $45-$51 million (the total depending on his 'Super 2' service-time ranking after the 2009 season).[94]
Through May 22, 2008, Ryan Braun had hit 13 home-runs and was batting .296 with 37 runs-batted-in, 25 runs scored, and a stolen base.
"There is something about the way the ball jumps off his bat. You can hear it."[95]
—--Assistant General Manager Gord Ash
Braun has the ability to hit for average and significant power. His swing is compact and short, and he is a pull hitter with tremendous bat speed and strong wrists. He stays back on offspeed pitches, and uses the entire field. He drives the ball no matter where it is in the strike zone.[96] Brewers hitting coach Jim Skaalen observed: "He's got tremendously quick hands and really hits through the ball. He stays on the ball as well as anyone we've got."[97]
In addition, his speed garnered him comparisons to New York Yankees third baseman Alex Rodriguez.[98] Braun has been timed at 4.2 seconds to first base from the right side of the plate.[99] During Scout Day at the University of Miami in 2004, Braun ran the 60-yard dash in 6.2 seconds. In spring training in 2007, he was second only to Corey Hart in the Brewers' 60-yard dash.[100]
Third base
Edit
A shortstop most of his life and in college, Braun was inconsistent on defense after switching to third base in 2006.[101] However, he was at the same time been noted for his athleticism on defense, his occasional web gems,[102] and particularly for his powerful throwing arm,.[103] which was rated the best infield arm in the Brewers' minor league system by Baseball America in early 2007.[104] Braun was charged with 34 errors in 2006, the majority on throws. "It's a matter of proper footwork," according to Ash at the beginning of 2007. "Most of his problems come because he relies on his arm, which is very strong."[105]
"I think Braunie's biggest problem is reading the ball off the bat. He's gotten a lot better on the routine plays, has gotten a lot better with his throws. He's a very good athlete. He's working very hard at it. He's going to get better, no doubt about it. He hasn't played a lot of third base. We tend to forget that."[106]
— Brewers coach Dale Sveum, a former big league third baseman.
While Yost removed Braun from a number of games in September 2007 for defense, he praised Braun for his improvements.
[107]
"The great thing about it is it doesn't involve throwing at all now," said Yost, referring to Braun's biggest issue in the spring. "It involves first-step quickness to the ball, which will increase his range. [He needs to] soften his hands a little bit. [His] hand-eye coordination to the ball needs to be a little better. That comes with repetition, repetition, repetition." Braun finished 2007 last of all eligible third basemen in fielding percentage (.895, with 26 errors in 248 total chances; only the fourth third baseman since 1916 to play 100 games or more in a season and have a fielding percentage under .900),
[108]
range factor (2.11), and zone rating (.697). His target at first base was Prince Fielder, who finished 2007 last of all eligible major league first basemen in range factor (8.49), and first in errors (14).
[109]
Similarly, his target at second base,
Rickie Weeks
, had the lowest fielding percentage of all NL second basemen (.976), and the lowest zone rating among all major league second basemen, .737.
[110]
Furthermore, it was suggested that it is possible that Braun would learn to play the position adequately, given that David Wright (who tied for the major league lead in errors by a third baseman in 2005 (his second in the league)[111] in 2007 became a "passable defender" (and won the NL Gold Glove at third base).[112]
Braun, for his part, noted after the 2007 season: "It's only my second full (professional) year of playing third base. I don't expect to be perfect, but I certainly expect to be better than I have been. I have to continue to work hard, and hopefully I'll improve."[113]
Left field
Edit
In January 2008, however, the Brewers acquired three-time Gold Glove winning center fielder Mike Cameron, prompting the team to move center fielder Bill Hall to third base and Braun to left field. Before the news broke, Braun was taking ground balls at Pepperdine University near Los Angeles when General Manager Doug Melvin left him a voicemail. After returning the call and learning of the team's plans, Braun grabbed his outfield glove, and started taking fly balls. Braun said that he supported the switch, and is ready to make the transition. "[The outfield glove] is not broken in yet, but it will get there. I feel like I'm a good enough athlete and have a good enough work ethic to make the transition pretty easily."[114]
While Braun's outfield experience until then had consisted of "two games in center field my freshman year in high school,"[115] Braun appeared to have the speed, arm, and athleticism to make the transition to the outfield.[116] Early reports were good, as in spring training in 2008 he showed an ability to cover ground, go back on the ball, to his left into the gap, and to his right to cut off balls down the line, and his arm strength will make him stand out against other left fielders.[117] Braun looked good tracking liners and high fly balls, and took good routes when cutting off balls down the line or in the gap, holding batters to singles.[118] In March 2008 Manager Ned Yost said that Braun has been "spectacular" in left,[119] and "he's got an opportunity one day to win a Gold Glove in left field. He certainly does."[120]
Brewers' General Manager Doug Melvin announced that the team had signed Braun to an 8-year, $45 million contract on May 15, 2008. The contract is until 2015. The deal includes Braun's $455,000 salary for 2008. It also includes a $2.3 million bonus in 2008, and could increase to $51 million through incentives. Braun also has a no-trade clause for the next four years, and then a limited no-trade clause allowing him to block deals to 12 teams from 2012-13, and six teams from 2014-15. It is the largest contract in Brewers' history, surpassing Jeff Suppan's. The contract will keep Braun locked up through his age-31 season.[121] It is the largest contract in baseball history given to a player with less than 3 years of experience.[122]
Like some other players, he used steroids.
References
Edit
External links
Edit
Community content is available under
CC-BY-SA
unless otherwise noted.