Scott Edward Kazmir (born January 24, 1984 in Houston, Texas) is a left-handed starting pitcher for the Los Angeles Angels of Anaheim. He was highly recruited after striking out 172 batters in 75 innings as a senior at Cypress Falls High School and had verbally committed to the University of Texas, but was drafted in the first round (15th overall) of the 2002 MLB Draft by the New York Mets. Along with teammate Clint Everts (who was selected 5th overall by the Montreal Expos) he became half of the first pair of high school pitchers from the same team drafted in the first round. His most popular nickname is perhaps "Sco-Kaz,"[1][2] with his lesser known ones being "Kid K", "K-Train", "Kazmanian Devil" and "Scotty K." The K being emphasized in his nicknames as a double meaning between the initial in his last name and his high strikeout rate.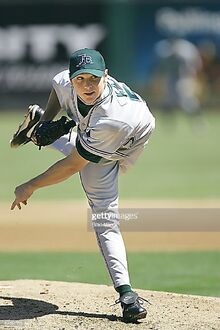 High school
At Cypress Falls High School, Kazmir threw four straight no-hitters as a junior.
New York Mets
In 2004, he was considered the top pitching prospect for the New York Mets. While playing for their Double-A team, the Binghamton Mets, he was infamously traded along with minor league pitcher Joselo Diaz to the Devil Rays on July 30, 2004 for Victor Zambrano and Bartolomé Fortunato. This trade was, and still is, widely criticized by the New York media and fan base given Kazmir's subsequent success. There is also speculation that the move may have led to the demotion of then-General Manager Jim Duquette within the organization.
Kazmir made his major-league debut on August 23, 2004, pitching five shutout innings against the Seattle Mariners.
As was the case two years before with Jeremy Bonderman of the Detroit Tigers, Kazmir was traded to a losing team with a need to quickly develop young pitching. He started 2004 with the Single-A St. Lucie Mets, and after his trade to the Devil Rays, he received only a few starts at Double-A Montgomery. However, he was essentially expected to anchor a young Rays pitching staff from the time he arrived in Tampa Bay. He had a 2-3 record and an ERA of 5.67 in 8 appearances (7 starts) in 2004, but he was clearly making strides in his development; he struck out 11.07 batters per nine innings.
2006 season
Kazmir started the season opener April 3 at Baltimore. At 22 years, 2 months and 10 days Kazmir was the youngest opening day starter since Dwight Gooden with the Mets in 1986. He lost the decision after 6 ER in 4 IP, but was subsequently extremely impressive with an overall 10-8 record with 163 strikeouts and a 3.24 ERA in 144.2 innings pitched. Kazmir has won decisions against Cy Young winner Roy Halladay, two-time 20 game winner Jamie Moyer, two-time All Star and 20 game winner Dontrelle Willis, 2001 World Series MVP and 3-time 20 game winner Curt Schilling, 2003 World Series MVP Josh Beckett and Tim Wakefield, who is 14-2 lifetime against the Rays. He currently ranks in the Top 5 in the AL statistically in wins and strikeouts.
On June 22, 2006 Scott Kazmir passed Sandy Koufax and put himself in the 22nd spot in MLB history for most strikeouts by a left-handed pitcher before his 23rd birthday. He also picked up his team leading ninth victory in the process. On July 3 Kazmir threw his first career complete game shutout against the Boston Red Sox while striking out ten and giving up only two hits.
On July 2, 2006, Kazmir was elected by the players to appear in the 2006 MLB All-Star Game, his first all-star appearance. According to reports, he was flown to Pittsburgh for the game by fellow All-Star Alex Rodriguez, whose New York Yankees played at Tampa Bay in the series right before the game, in A-Rod's private jet. In the All-Star Game, Kazmir threw a perfect sixth inning, retiring Freddy Sanchez, Carlos Beltran, and Albert Pujols.[3]
On August 22, 2006, Kazmir struck out eight Texas Rangers, becoming the all-time Rays strikeout leader.
2008 season
Kazmir strained his elbow at the beginning of Spring Training. The injury was not serious, but his recovery and belated season preparation delayed his season debut until May 4th, when he faced the Boston Red Sox in Fenway Park.[4]
On May 14th, the Rays and Kazmir agreed on a four-year contract extension which guaranteed the lefty $28.5 million and has a maximum value of approximately $39.5 million if the team picks up his option for the 2012 season.[5]
On May 30th, he set a team record for wins in a month, with 5, as the Rays shutout the White Sox 2-0.[6]
On July 6th, it was announced that Kazmir was selected to be on the American League squad for the 2008 MLB All-Star Game.[7]
2009 Season
Kamir started the season on the disabled list then was activated on April 8.
On August 28, 2009, Scott was traded to the Los Angeles Angels of Anaheim for two minor league players and second baseman Sean Rodriguez.
On his debut for the Angels, against the Seattle Mariners, he recieved the loss, going 61/3 innings, giving up one earned run and striking out eight. At one point in the game, he retired 16 batters in a row.
Awards and accomplishments
2007 American League Strikeout leader
Baseball America High School Player of the Year, 2002
Set a single-season record for strikeouts by high school pitchers in Texas with 175 for

Cypress Falls High School

(breaking the previous record of 172, set by Josh Beckett)
Member of the United States

Junior Olympic

baseball team in 2001; they won the silver medal
Named American League Player of the Week on May 22, 2006, after posting a 2-0 record and an 0.60 ERA for the week
In High School, he had four consecutive no-hitters.[8] While going for his fifth consecutive no-hitter he gave up a hit with two out in the seventh inning. After this, he finished the game, and subsequently pitched two more consecutive no-hitters.
References
See also
Tampa Bay Rays all-time roster
External links