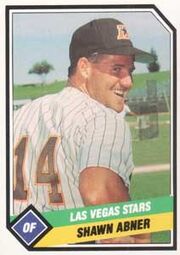 Shawn Wesley Abner (born June 17, 1966 in Hamilton, Ohio) was a baseball player who played in Major League Baseball from 1987 to 1992. He is best known for having little success as a Major League player despite being chosen first in the 1984 amateur draft.
Abner attended high school at Mechanicsburg Area High School in Mechanicsburg, Pennsylvania, where he was identified by New York Mets scouts as an all-around "can't miss" outfield prospect after his sophomore year. He was also a star at football, and his number "16" was retired by the school for use in both sports. The Mets owned the first pick in the 1984 amateur draft and had had recent draft successes with Darryl Strawberry and Dwight Gooden, two players who became stars almost immediately despite their young age. Shawn Abner was chosen first in the draft; his brother Ben was also taken, in the fifth round by the Montreal Expos. Other players chosen in the first round included Bill Swift, Cory Snyder, Terry Mulholland, Jay Bell, Oddibe McDowell, and, perhaps most importantly, Mark McGwire.
Abner never played a game for the Mets. After moving slowly through the minor-league system, he was traded after the 1986 season to the San Diego Padres as part of an eight-player deal that sent Kevin Mitchell to the Padres in exchange for Kevin McReynolds. The light-hitting Abner played sparingly over the next five seasons for San Diego, being used mostly as a reserve outfielder. He would be traded to the California Angels in 1991 and signed by the Chicago White Sox in 1992. His season with the White Sox was probably his best, as he attained a .279 batting average over 97 games.
However, Abner would injure his knee the following season, while in the Kansas City Royals organization, and never played in the majors again. He would end up back in the New York Mets organization in 1995, rehabilitating his knee with the Norfolk Tides.
External link
Edit
Community content is available under
CC-BY-SA
unless otherwise noted.