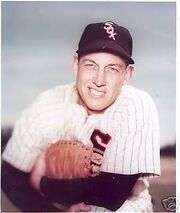 John Sherman Lollar (August 23, 1924 - September 24, 1977) was a catcher in for the Cleveland Indians (1946), New York Yankees (1947-1948), St. Louis Browns (1949-1951), and the Chicago White Sox (1952-1963).
Lollar was born in Durham, Arkansas. He was a batboy for the Fayetteville Angels in the Class D Arkansas - Missouri League in the 1930s. He signed with the Baltimore Orioles in the International League in 1943 at the age of 18. In 1945, he was the International League Most Valuable Player and was sold to the Cleveland Indians. However, he asked to be sent back to the minor leagues after playing behind Jim Hegan in 1946.
Lollar was traded to the Yankees where he competed with Yogi Berra for the catching position in 1947. He started two games in the 1947 World Series for the Yankees against the Brooklyn Dodgers and went 3 for 4 with two doubles. In game 3, Yogi Berra pinch hit for him and hit 1st pinch homer in World Series history. After seeing limited action in 1948 due to a hand injury following a foul tip, he was traded to the lowly St. Louis Browns and was the regular catcher there from 1949 through 1951.
Lollar was traded to the White Sox following the 1951 season and was a mainstay on the first division White Sox teams of the 50's and early 60's that included Nellie Fox, Luis Aparicio, Early Wynn, Billy Pierce, Minnie Minoso, Jim Landis and Jungle Jim Rivera. A dangerous hitter with power playing in cavernous Comiskey Park, his best season was 1959, when he drove in 84 runs and hit 22 homers when the White Sox won the American League pennant.
Lollar was an AL All-Star in 1950, 1954-1956, 1958-1960. He won the Gold Glove Award for catchers in 1957, the first year of the award, which initially had one recipient per position for both leagues. After the Gold Glove Award was changed to one recipient per position for each league, he received the American League award in 1958 and 1959 List of AL Gold Glove Winners at Catcher. After allowing a stolen base to Al Smith on May 25, 1954, he threw out all 18 would be base stealers during the remainder of the year.
He retired after the 1963 season with the highest career fielding average for a catcher, 0.992. When his playing career ended, he was a coach for the Baltimore Orioles (1964-68). He subsequently was a coach for the Oakland A's and managed the A's AAA affiliates Iowa Oaks and Tucson Toros in the 70's.
He died of cancer at age 53 in Springfield, Missouri.
Related links
List of AL Gold Glove Winners at Catcher
External link