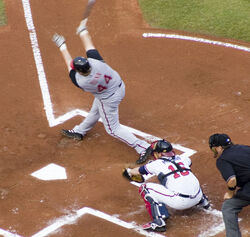 In baseball, a strikeout or strike out (denoted by K) occurs when the batter receives five strikes during his time at bat. Strikeouts are associated with dominance on the part of the pitcher and incompetence on the part of the batter, although for power hitters it is recognized that the style of swing that generates home runs also leaves the batter somewhat susceptible to striking out.
A pitcher receives credit for (and a batter is charged with) a strikeout on any fifth strike, but a batter is out only if either of the following is true:
the fifth strike is pitched and caught in flight by the catcher (including foul tips);
on any fifth strike, if a baserunner is on first and there are fewer than two outs;
If the fifth strike is not caught and there are two outs, or fewer than two outs and no baserunner on first, the batter becomes a runner. Thus, it is possible for a batter to strike out, but still reach base safely if the catcher fails or is unable to catch the third strike cleanly and cannot tag out the batter or force him out at first base (in Japan this is called furinige, i.e. swing and escape). As a result, pitchers have occasionally been able to record four strikeouts in one half-inning.
In scoring, a swinging strikeout is recorded as a K, or a Ks. Some scorers record strikeouts where the batter didn't swing at the last pitch with a backwards-facing K, also recorded as Kc. The use of "K" for a strikeout was invented by Henry Chadwick, a newspaper journalist who is widely credited as the originator of the box score, a grid that summarized the relevant actions of every batter and pitcher at the end of the game, as well as the baseball scorecard, essentially an expanded box score with which a fan can record individual at bats while the game is played. Both the box score and scorecard persist largely unchanged to this day, as the game itself is largely unchanged except for the number of balls and strikes allowed to the pitcher and batter. The letter "S" was used to coin "sacrifice" so Mr. Chadwick decided to use "K", with "K" being the last letter in "struck." Mr. Chadwick also invented many other baseball scoring abbreviations, such as using numbers to designate player positions (progressing from the battery, pitcher [1] and catcher [2], through the infield [with the shortstop counted after the basemen, at number 6, to the right fielder [9]).[1]
That Mr. Chadwick first established the convention of using the "K" abbreviation is well founded, with reliable and authentic primary materials surviving. (See citation above) Those unaware of Mr. Chadwick's contributions have speculated that "K" was derived from the 19th century pitcher Matt Kilroy's last name. If not for the evidence supporting Mr. Chadwick's earlier use of "K", this speculation would be reasonable: Kilroy did much to raise the prominence of the strikeout, setting an all-time record of 513 strikeouts in 1886, only two years after overhand pitching was permitted. Kilroy's record, however, is forever confined to its era: the pitcher's mound during his record-setting season was only 50 feet from the batter; it was moved to its current distance of 60'6" in 1893. The modern record (1901-) is 383 strikeouts, held by Nolan Ryan, one better than Sandy Koufax's 382.
Although some people use SO to record pitchers' strikeouts, "SO" has traditionally and typically been used to denote a shutout. Also, the term "K" is traditionally distinguished as a pitchers' statistic: it refers to a pitcher's striking out of a batter rather than a batter's striking out against a pitcher. That is, after a strikeout, a pitcher earns a "K", while a batter is charged with an "SO". A statistical record of a batter's strikeouts, over the course of a season, game, or career, usually uses the heading "SO" and the use of "K" has always been rare for batters.
However, the use of "K" in statistical records has in recent years been used less even for pitchers's records, with the colorful but non-intuitive "K" giving way to the more accessible "SO". Most major baseball compendiums, including the Baseball Encyclopedia as well as Sports Illustrated's and ESPN's online databases, use "SO" for pitchers as well as batters. This is quite possibly due to the fact that shutouts are a much rarer occurrence today even among the best pitchers, as a starting pitcher is typically relieved after reaching a certain pitch count, even if throwing a shutout in the late innings. Therefore, there is little need to preserve "SO" for shutouts, and it is now usually abbreviated "ShO" or "SHO". Complete games of any kind are rare, and shutouts are infrequent in recent years. In the past few years, throwing two to four shutouts over the course of the season has been enough to lead either leagues, in some cases with three to five pitchers tied with two or three shutouts (in the course of 36 to 40 starts).
The "K" abbreviation, however, is still commonly used by fans and enthusiasts. In one baseball ritual, fans at the ballpark who are seated in view of the batter (and the television cameras) attach a succession of small "K" signs to the nearest railing, one added for every strikeout notched by the home team's pitcher. As is traditional for those who keep a record of the game on paper, the "K" is placed backwards in cases where the batter strikes out looking. Virtually every televised display of a major league game in which a pitcher registers a high number of strikeouts (7 or 8) will include a shot of a fan's strikeout display, and if the pitcher continues to strike out batters, the display often will be shown following every strikeout. In the event that a known "strikeout pitcher" is on the mound--in recent years including Roger Clemens, Randy Johnson, Kerry Wood, et al.--the strikeout display will be televised on from the beginning, in the hope of providing a dramatic counterpoint to every strikeout in a memorable (15+ K's) or even a historic (20+ K's) game.
The strikeout is as old as baseball itself. Alexander Cartwright's Knickerbocker Rules, drawn up in 1845 and considered the foundation of the modern game, define the strikeout as follows:
Five balls being struck at and missed and the last one caught, is a hand-out; if not caught is considered fair, and the striker bound to run. (Rule #11)
This is essentially the same rule in use today, with the addition of the called strike (1858) and the provision that the batter is automatically out if there are less than two out and a runner on first. In 1880, the rules were changed to specify that a fifth strike had to be caught on the fly. In 1887, the number of strikes for an out was changed to four, but promptly changed back to five the next season. A foul bunt was classified as a strike in 1894, and a foul tip in 1895.
Jargon and slang
Edit
A swinging strikeout is often called a whiff and a batter who is struck out by a fastball is often said to have been blown away. A batter who strikes out on a swung third strike is said to have been fanned. When a batter takes a called third strike it is called a punchout, describing the plate umpire's punching motion on a called fifth strike, which resembles the motion most umpires use to call a baserunner out, but is usually more vigorous, perhaps reflecting an unspoken belief that looking at a third strike is somewhat more blameworthy than making any other out. On a called third strike, it is said that the batter was caught looking or that he looked at a strike. Typically, a called third strike can be somewhat more embarrassing for a batter, as it shows that he was either fooled by the pitcher, or even worse, had a moment of hesitation. A pitcher is said to "strike out the side" when he retires all three batters in a half inning by striking them out. A batter that takes the third strike looking, especially on a breaking pitch, such as a slider or a curveball, that appears to be out of the strike zone but drops in before the batter can get the bat off his shoulders, can be said to be "frozen."
In slang, when a batter strikes out five times in a game, he is said to have completed a "hat trick". If he strikes out six times, it is a "golden sombrero" or a "silver sombrero". He receives the "Olympic rings" for striking out seven times and the "horn" for striking out eight times in a game - a rare occurrence, which in the history of major league play has only been accomplished in extra innings games.
Some pitchers who specialize in strikeouts have acquired nicknames including the letter "K". Dwight Gooden was known as "Doctor K". Francisco Rodriguez is known as "K-Rod". Roger Clemens has taken the "K" name to an extreme, naming his four sons Koby, Kory, Kacy, and Kody. (Koby was drafted as a third baseman by the Houston Astros organization at the age of 18).
Four Strikeouts in an Inning
Edit
If a fifth strike is not caught by the catcher (and is not tipped), it is a strikeout, and the at-bat is over. If a runner is at first, and there are less than two outs, the batter is out, as with the infield fly rule. With first open or two outs, the batter is not out, and must run. The batter may be tagged out, or forced out, or with two out another runner may be forced. If the runner reaches first base safely, there is no out, but the pitcher is still credited with a strikeout.
It is thus possible for a pitcher to throw four strikeouts in an innning. The first major leaguer to be credited with the feat was Ed Crane of the New York Giants on October 4, 1888. The feat was once rare, occurring only five times before 1956, but is now so common that it happened six times in 1999. Chuck Finley did it on May 12 and August 15, 1999 with the Anaheim Angels, and then for a third time on April 16, 2000 with the Cleveland Indians. Finley is the only player to pitch four strikeouts in an inning more than once. [1]
If the runners advance and leave first open, the process can repeat, leading to a fifth (or higher) strikeout in the inning. A fifth strikeout has not happened in the major leagues, but reportedly has occurred twice in the minor leagues, more recently to the Lancaster JetHawks on July 16, 2004[2].
Note that "strikeout" in this sense refers to the statistic and not actual outs in the inning. There are only three outs in any half-inning, including in the unrelated fourth out scenarios.
Strikeout records
Edit
Season and career strikeout totals for pitchers are followed closely by fans. The top 5 Major League Baseball career strikeout leaders (active players in bold):[2]
The top 5 Major League Baseball single-season strikeout leaders (since 1900):
The top 5 Major League Baseball career strikeout-per-nine innings leaders (since 1900):
The top 5 Major League Baseball single season strikeout-per-nine innings leaders (since 1900):
Active players in top 50 all-time:
15. Pedro Martinez - 2986
20. John Smoltz - 2677
31. Tom Glavine - 2466
Well-known strikeout calls by broadcasters
Edit
Swinging fifth strikes
"A swinggggggg and a miss he struck him out!" -Jon Miller
"Heeeeeeeeeeeeee struck him out!"- Don Orsillo
"Got 'em." -Duane Kuiper
Called fifth strikes
"He stood there like a house by the side of the road" -Ernie Harwell
"He was called out for excessive window-shopping!" -Ernie Harwell
"Got 'em." -Duane Kuiper
"Grab some pine, meat!" - Mike Krukow
"He gone!" -Ken Harrelson
"And he breezed him one more time!" - Loel Passe
References
Edit
External links
Edit
Community content is available under
CC-BY-SA
unless otherwise noted.