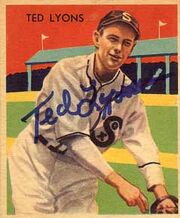 Theodore Amar Lyons (December 28, 1900 - July 25, 1986) was an American Major League Baseball starting pitcher, manager and coach. He played 21 big league seasons, all of them with the Chicago White Sox.
Lyons broke into the major leagues in 1923. His first 2 wins occurred as a relief pitcher in a doubleheader on October 6, 1923, making him one of the first pitchers to perform the feat. Lyons worked his way into the starting rotation the following year, when he posted a 12-11 record and 4.87 ERA. Over the following 18 seasons, he won 20 or more games three times (in 1925, 1927 and 1930) and became a fan favorite in Chicago. He relied on sinker balls and is the only pitcher (even including the relief pitchers) in the Hall of Fame never to strike out 100 or more players in any season. His high was 74 strikeouts in 1933 (when he had a 10-21 W-L record).
Lyons pitched a no-hitter on August 21, 1926 which took just 67 minutes to complete.
Lyons was such a draw among the fans that, as his career began to wind down in 1939, manager Jimmy Dykes began using him only in Sunday afternoon games, which earned him the nickname "Sunday Teddy". Lyons made the most of his unusual scheduling, winning 52 of 82 decisions from 1939 until his retirement as a player in 1946, including a stellar 1942 season in which he led the league with a 2.10 ERA and completed every one of his 20 starts.
Lyons succeeded Dykes as the White Sox' manager in May 1946 but in 2¾ years enjoyed no more success as a manager than he had as a player, guiding them to a meager 185-245 record. He stopped pitching for good after 1946 when he was named manager, having compiled a 260-230 record, 356 complete games, 1073 strikeouts and a 3.67 ERA. After severing his association with the White Sox in 1948, he coached the pitchers for the Detroit Tigers (1949-52) and Brooklyn Dodgers (1954).
He never appeared in a postseason game, as the White Sox were usually far behind the American League leaders during his career. However, New York Yankees manager Joe McCarthy said, "If he'd pitched for the Yankees, he would have won over 400 games." He was named to the All-Star Game roster in 1939 - but was not used in the game.
He was elected to the Baseball Hall of Fame in 1955 by the BBWAA, along with Joe DiMaggio, Dazzy Vance, and Gabby Hartnett. In 1981, Lawrence Ritter and Donald Honig included him in their book The 100 Greatest Baseball Players of All Time.
External links
Edit
Community content is available under
CC-BY-SA
unless otherwise noted.