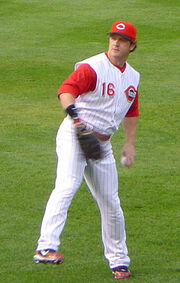 Todd Mathew Hollandsworth (born April 20, 1973 in Dayton, Ohio) is a former outfielder in Major League Baseball. He played with the Los Angeles Dodgers (1995-2000), Colorado Rockies (2000-2002), Texas Rangers (2002), Florida Marlins (2003), Chicago Cubs (2004-2005), Atlanta Braves (2005), Cleveland Indians (2006), and Cincinnati Reds (2006). He batted and threw left-handed.
Hollandworth graduated from Newport High School in Bellevue, Washington in 1991. He was drafted in the third round of the 1991 Major League Baseball Draft by the Los Angeles Dodgers.
Hollandsworth made his major league debut on April 25, 1995, for the Dodgers. He was named the 1996 National League Rookie of the Year when he hit .291 with 12 home runs and 59 RBI in 149 games. His award was the fifth consecutive Rookie of the Year award for the Dodgers, an MLB record. He also led all National League rookies in hits, doubles, home runs, RBI and stolen bases. Hollandsworth was a member of the 2003 World Series Champion Florida Marlins. The Braves acquired him on August 29, 2005, from the Cubs, for minor league pitchers Todd Blackford and Angelo Burrows.
In a 12-year Major League career, Hollandsworth compiled a .273 batting average with 98 home runs and 401 RBI.
Todd is married to Marci, sister of major league pitcher Matt Herges. The two were introduced to one another through Herges while both were Dodgers in 2000.
During the 2008 baseball season, Todd has been a regular contributor to Comcast Sports Net Chicago commenting on the Chicago Cubs baseball season.
See also
External links