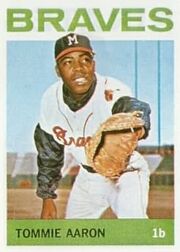 Tommie Lee Aaron (August 5 1939 – August 16 1984) was a first baseman and left fielder in Major League Baseball, and the brother of Hall of Famer Hank Aaron. They were the first siblings to appear together in a League Championship Series as teammates. Born in Mobile, Alabama, he was signed by the Milwaukee Braves on May 28, 1958, at the age of 18. He played for both the Milwaukee Braves (1962-1963, 1965) and the Atlanta Braves (1968-1971). After his playing days, he worked for the organization as both a minor league manager (1973-1978) and major league coach (1979-1984). He died of leukemia at age 45 in Atlanta, Georgia.
Tommie Aaron was a good-fielding first baseman (.990 in 232 games) and a below-average outfielder (.949 in 138 games). Also, in 17 games at second base and third base, he handled 41 chances without an error (1.000). He was often used as a pinch hitter during his career. He only hit a total of 13 major league home runs, but along with his brother's record 755, together they hold the major league record for the most career home runs between two brothers.
Career highlights include:
He finished his career with a lifetime batting average of .229, 13 HR, 94 RBI, and 102 runs scored in 437 ballgames.
QUOTE: "As you know, Tommie (Aaron) is no longer with us. He meant a lot to me. I think if he played with another ballclub, I think he probably would have had a better major league career. The media was always comparing us. I'm sure, by me being successful, it put a lot of pressure on him. He couldn't play up to his potential." - Hank Aaron in The Sporting News (April 8, 1999)
External links
Edit
Community content is available under
CC-BY-SA
unless otherwise noted.