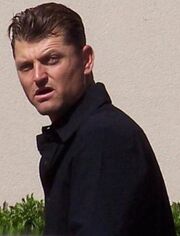 Trevor William Hoffman (October 13, 1967 in Bellflower, California) is a relief pitcher in Major League Baseball who had pitched for the San Diego Padres from mid-1993 through 2008. He left the Padres after the 2008 season when he refused to take a pay cut. He bats and throws right-handed. He reigns as the all-time Major League save record holder with 540 total saves, having broken the previous record held by Lee Smith on September 24, 2006. Hoffman is frequently referred to as one of the best closers in baseball history. He has been listed by major sports publications as one of the best pitchers of his era ,[1] and is considered extremely likely to be elected to the Hall of Fame.[2]
Career
Originally drafted by the Cincinnati Reds as a shortstop after leading the University of Arizona team in hitting in 1988 with a .371 batting average, 35 points better than teammate J.T. Snow in 1989, Hoffman was converted to a pitcher in 1991 after batting .212 with 23 RBI in 103 games while playing short and third for Single-A Charleston (then a Cincinnati Reds minor league affiliate). The move, suggested by Charleston manager Jim Lett, was so successful that in his first season on the mound, Hoffman threw a total of 47⅔ innings at Cedar Rapids and at Double-A Chattanooga, and had a 1.89 ERA and 75 strikeouts.
Hoffman proved to have such a live arm that he was taken by the Florida Marlins in the 1992 expansion draft and a year later was involved in the five-player trade that sent slugger Gary Sheffield from the San Diego Padres to Florida during the infamous 1993 fire sale. Hoffman is the only prospect acquired from the fire sale to develop into a legitimate star despite the Padres dumping players of the caliber of Sheffield, Fred McGriff, Bruce Hurst, and Craig Lefferts among others.
Hoffman is one of only two currently active players in Major League Baseball remaining from the Marlins' 1993 inaugural season (the other being fellow relief pitcher David Weathers).
During the strike-shortened 1994, Hoffman first took over closer duties, replacing Gene Harris. Although at the time Tony Gwynn's flirtation with batting .400 was the only truly positive note in that terrible season for the Padres, in retrospect Hoffman's 20 saves and ERA of 2.57 portended a brighter future for himself and the team. 1995 was a step backwards and remains Hoffman's worst non-injury year as a closer, with an ERA of 3.88; though he had 31 saves, Hoffman also finished with 7 blown saves. The next two years showed great improvement and first achieved Hoffman larger notice. Both years he pitched over 80 innings, with 111 strikeouts, averaged approximately 40 saves, and had ERAs of 2.25 and 2.66. In 1996, at Los Angeles, Hoffman defeated the Dodgers to the clinch the NL West.
The 1998 season was arguably Hoffman's best. He had a career-high 53 saves and a career-best 1.48 ERA. His 53 saves that year tied the NL single-season record set in 1993 by the Cubs' Randy Myers. His numbers got him into the Cy Young race that year, but he lost to Tom Glavine of the Atlanta Braves, despite receiving 13 first-place votes to Glavine's 11. Hoffman is the only pitcher to ever receive the most first-place votes and not win the Cy Young. Hoffman didn't go unrecognized for his achievements in 1998, however. He won the Rolaids Relief Man of the Year Award and the The Sporting News Reliever of the Year Award. Hoffman led San Diego to the 1998 World Series but lost against the New York Yankees. It was during this year that Hoffman began entering save situations in Padres home games with AC/DC's "Hells Bells" playing over the public address system.[3]
Hoffman followed his 1998 performance by averaging over 40 saves over the next four years (40, 43, 43, 38). His 1998 and 1999 seasons were rewarded with a four-year contract for 2000-04 worth $32 million. Further, his career was beginning to be followed on a national stage and compared to other greats including Dennis Eckersley. Hoffman broke Eckersley's record for most saves with one team (320) in 2002.[4] Significantly, Sports Illustrated dedicated their May 13, 2002 issue to Hoffman calling him the greatest closer in MLB history (see image above).[5]
On May 6, 2005, Hoffman recorded his 400th save against the St. Louis Cardinals and became the third pitcher in Major League history to reach the milestone, following John Franco (424 saves) and Lee Smith (478 saves). On August 24, 2005, Hoffman passed Franco for second place on the all-time saves list with #425 after the Padres beat the Houston Astros 7-4. Against the Los Angeles Dodgers, Hoffman clinched the Padres to the post-season.
2006 was a year of several milestones, including one significant disappointment for Hoffman. He was the losing pitcher in the 2006 All-Star Game, despite having two strikes with two outs on eventual MVP Michael Young. On the positive side, August 20 marked Hoffman's 776th outing for the Padres, breaking the Pirates Elroy Face's major league record for most relief appearances with one club, according to the Elias Sports Bureau [6]. Even more significantly, on September 24, Hoffman became the all-time Major League saves leader by saving his 479th career game in a 2-1 victory over the Pittsburgh Pirates, surpassing Lee Smith's record. Hoffman ended the season against the Arizona Diamondbacks in 4 straight clinching playoff appearances.
On April 29, 2007, Hoffman pitched in his 803rd game for the Padres, breaking the record for games pitched for any one team. The record was previously held by both Walter Johnson of the Washington Senators and Elroy Face of the Pittsburgh Pirates. Hoffman ultimately pitched 902 games for the Padres - exactly 100 more than the previous record.
On June 6, 2007, at PETCO Park, Hoffman recorded his 500th career save against the Los Angeles Dodgers. He struck out Russell Martin looking, with a fastball, to secure the 5-2 win for the Padres. Hoffman is the only pitcher in history to log 500 saves.
On July 1, 2007, Hoffman was named to the NL All Star Team for the sixth time in his career, along with teammates Jake Peavy and Chris Young.
On September 8, 2007 (against the Colorado Rockies) Hoffman struck-out his 1000th hitter, a feat matched by only 7 other relief pitchers.
On September 27, 2007 (against the Pittsburgh Pirates) Hoffman picked up his 40th save of the 2007 season. This is his ninth season with 40 saves, another Major League record.
On October 1, 2007, in the Padres' tie-breaker wild card game against the Colorado Rockies, Hoffman blew a save and his team's 8-6 lead in the 13th inning. He took the loss when he allowed the game-winning run to score on a sacrifice fly.
During Spring Training 2008, Hoffman repeatedly told the sports press that he was looking forward to vindicating his lost save against the Colorado Rockies. On April 1, 2008, during the second game of the season, Hoffman recorded his first save of the 2008 season against the Houston Astros.
Milestone saves
Save
Date & Opponent
Score
Note
1
April 29, 1993 at Atlanta
6-5
First Major League save (with the Florida Marlins)
3
August 6, 1993 vs. Colorado
6-3
First save with the Padres
100
April 13, 1997 at Philadelphia
3-1
111
June 23, 1997 at San Francisco
11-6
Broke Rollie Fingers' club record with Padres save No. 109
200
June 10, 1999 vs. Oakland
2-1
300
August 15, 2001 vs. New York (NL)
2-1
323
May 1, 2002 vs. Chicago (NL)
4-3
Broke the Major League record for most career saves with one team (321)
391
September 18, 2004 at San Francisco
5-1
Moved past Dennis Eckersley for third place on the all-time saves list
400
May 6, 2005 at St. Louis
6-5
402
May 9, 2005 at Cincinnati
6-5
400th save with the Padres
425
August 24, 2005 vs. Houston
7-4
Moved past

John Franco

for second place on the all-time saves list
479
September 24, 2006 vs. Pittsburgh
2-1
Moved past Lee Smith to become the all-time

saves

leader
500
June 6, 2007 vs. Los Angeles
5-2
Became first pitcher to reach 500 saves.
502
June 26, 2007 vs. San Francisco
3-2
500th save with Padres.
530
May 10, 2008 vs. Colorado
3-2
Saved win No. 350 for Greg Maddux.
Saves by opponent
| Opponent | Saves |
| --- | --- |
| Dodgers | 63 |
| Rockies | 51 |
| Giants | 50 |
| Diamondbacks | 38 |
| Cubs | 33 |
| Pirates | 31 |
| Astros | 31 |
| Nationals/Expos | 30 |
| Marlins | 28 |
| Mets | 28 |
| Phillies | 28 |
| Reds | 25 |
| Braves | 24 |
| Cardinals | 19 |
| Brewers | 18 |
| Mariners | 16 |
| Rangers | 6 |
| Angels | 5 |
| Athletics | 4 |
| Royals | 2 |
| Orioles | 1 |
| Red Sox | 1 |
| Indians | 1 |
| Rays | 1 |
| Blue Jays | 1 |
| White Sox | 0 |
| Yankees | 0 |
| Padres | 0 |
| Tigers | 0 |
| Twins | 0 |
Saves by stadium
Pitches
When Hoffman first came into the league he was a fireballer, throwing in the low to mid 90's with a tight curveball. Hoffman's repertoire now includes one of the game's best changeups, a more modest four-seam fastball in the 84-88 MPH range, a slower cut fastball that moves in towards a left-handed batter, and he even mixes in a slider and a curveball a handful of times a year for good measure. However, for all intents and purposes, Hoffman is a two-pitch pitcher, alternating between fastballs and changeups. It is the arm action on the change up and the late sink just before it reaches the plate (almost as if someone was pulling on a string attached to the pitch) that has allowed Hoffman to be as successful as he has been over the years.
Trevor Hoffman learned the change up, which he actually throws with a palmball [7] grip instead of a circle changeup grip, from teammate Donnie Elliott during the 1994 player's strike and began using the pitch in 1995 when he did not have his best fastball because he was pitching most of the year with a torn rotator cuff. Hoffman opted to pitch through the pain and have surgery in the off-season rather than end his season early. He came back the following year to throw in the low 90's, with a tight curveball and that terrific changeup, which reportedly made his fastball look as if was going Template:Convert/mi/hTemplate:Convert/track/abbr/onTemplate:Convert/track/disp/Template:Convert/track/adj/. The key to the pitch, Hoffman explains in the September 11, 2006 edition of ESPN The Magazine, is how he pinches the seam of the ball with his thumb and index finger as he releases it. He throws the changeup with the arm speed used to throw a fastball, the hitter thinks it's a fastball, it looks like a fastball. But when the hitter starts to swing, the ball is still yards away from the plate. In this article, writer Buster Olney attributes Hoffman's initial loss of velocity and torn rotator cuff in 1995 to horsing around at Del Mar Beach near San Diego during the strike.
As recently as 1998, Trevor's finest season when he finished second in Cy Young Award voting and seventh in MVP voting, he was throwing his fastball in the low 90's. However, his velocity has dropped off in recent years. His velocity has actually improved since he had shoulder surgery that forced him to miss most of the 2003 season. Before that procedure, Hoffman's fastball had slowed to the mid 80's. Despite his diminished velocity, Hoffman's strikeout numbers remained very good, striking out more than a batter per inning every season up to 2003 and striking out nearly that many in 2004 and 2005. The 2006 season, though, saw his strikeout numbers fall off noticeably.
Accomplishments
See also
Trivia
Hoffman pitched for the Padres in the longest game in Major League Baseball history in 1993 at Veteran's Stadium against the Phillies, a rain-shortened double-header that lasted more than 12 hours. Hoffman lost in the bottom of the 10th inning by the surprising surrender of an RBI single to Mitch Williams, the Phillies closing pitcher.
Hoffman is mentioned on WWE.com in a section called Field of Themes, featured as having his entrance theme be The Undertaker's theme song, Graveyard Symphony.
References
External links