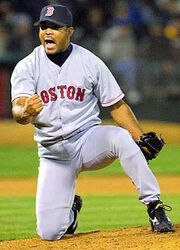 Ugueth Urtaín Urbina Villarreal (Template:IPA-en) (born (February 15, 1974 in Caracas, Venezuela) is a former relief pitcher in Major League Baseball. A two-time All-Star, Urbina led the National League in saves with 41 in the 1999 season and helped the Florida Marlins win the 2003 World Series.
Urbina's son, Juan Urbina, signed with the New York Mets as an international free agent on July 2, 2009.
Playing career
In 11 major league seasons, Urbina compiled a 44-49 record with 237 saves, 814 strikeouts, and a 3.45 ERA. He played with the Montreal Expos (1995-2001), Boston Red Sox (2001-2002), Texas Rangers (2003), Florida Marlins (2003), Detroit Tigers (2004-2005), and Philadelphia Phillies (2005).
Urbina started his career as a dominant closer with the Expos, then was traded to the Red Sox on July 31, 2001, for Tomo Ohka and Rich Rundles. Urbina left Boston as a free agent after the 2002 season, and signed with the Rangers for one year. He was traded on July 11, 2003, to the Marlins for Adrian Gonzalez, Will Smith, and Ryan Snare. Urbina signed a two-year contract with the Tigers after 2003. On June 8, 2005, the Tigers traded Urbina with Ramon Martinez to the Philadelphia Phillies for infielder Plácido Polanco. He played his final game on October 2, 2005, for the Phillies.
Pitching attributes
Urbina's pitches included a moving fastball and a slider that enabled him to hold left-handed hitters in check. He also threw a changeup which tailed away from right-handers and a splitter that broke sharply. He batted and threw right-handed.
Attempted murder conviction in Venezuela
On November 7, 2005, Urbina was arrested by Venezuelan authorities on a charge of attempted murder for an incident that occurred a few weeks previous, on October 16.[1] Urbina attacked five farm workers on his property whom he had accused of stealing a gun. The pitcher tried to injure them both with a machete and also attempted to pour gasoline on them. On March 28, 2007, Urbina was convicted of attempted murder.[2] He was sentenced to 14 years in prison.[2]He was released on December 24, 2012 after serving over seven years of his sentence.
See also
List of Major League Baseball saves champions
References
External links
Preceded by:
Trevor Hoffman

National League Saves Champion


1999
Succeeded by:


Antonio Alfonseca