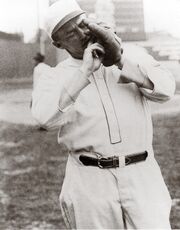 Urban James Shocker (August 22 1890 – September 9 1928), born Urbain Jacques Shockor in Cleveland, Ohio, was a Major League Baseball pitcher for the New York Yankees and St. Louis Browns from 1916 to 1928.
The right-handed hurler had four consecutive 20-game-winning seasons with the Browns from 1920 through 1923 (20, 27, 24, 20) During those four years, he was one of the most dominant pitchers in baseball. Shocker led the league in strikeouts in 1922 withg 149, when the St. louis Browns, with Lee Fohl as manager, finished in 2nd place, 1 game behind the New York Yankees. Urban was the last Yankees pitcher to legally throw a spitball. He, and a handful of other pitchers, was grandfathered into the practice after it was banned by baseball in 1920. He won 18 games for the 1927 New York Yankees, but suffered a heart condition that year, and was not used in the 1927 World Sweries. He pitched in only one major league game in 1928, and became the first 1927 Yankee to die. Mark Koenig was the last in 1993.
After his release from the Yankees in 1928, Shocker entered an exhibition tournament in Denver. He pitched in just one game on August 6 against a team from Cheyenne, Wyoming and fared poorly in that outing. Around this time, he contracted pneumonia and was hospitalized shortly thereafter. He died in Denver, Colorado from a weakened heart caused by the disease.
External links
Edit
Community content is available under
CC-BY-SA
unless otherwise noted.