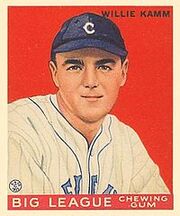 William Edward Kamm (February 2 1900 - December 21 1988) was an American third baseman in Major League Baseball who played for the Chicago White Sox from 1923 until he was traded mid-season in 1931 to the Cleveland Indians, where he finished his career in 1935.
He was born in San Francisco, California. The dominant third baseman in the American League for most of his career, he led the league in fielding average eight times and in putouts seven times. Kamm was considered by many to be the greatest defensive third-baseman in the American League prior to Brooks Robinson. Kamm was also a master at performing the hidden-ball trick - and was rated one of the smartest ballplayers of his era. His career batting average was .281.
Kamm died at age 88 in Belmont, California.
External link
Edit
Community content is available under
CC-BY-SA
unless otherwise noted.