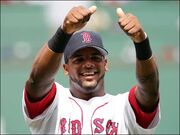 Wilfredo Modesto "Wily Mo" Peña (born January 23, 1982 in Laguna Salada, Dominican Republic), is a Major League Baseball player for the Washington Nationals. At 6 feet, 3 inches in height and 245 pounds, the right-handed batting and throwing Peña is considered a pure power hitter known for his tape-measure home runs and high strikeout rate.
Professional career
Edit
Early career
Edit
Originally signed by the New York Mets as an amateur free agent in 1998, Peña signed with the New York Yankees about a year later and was traded to the Reds for third baseman/designated hitter Drew Henson and outfielder Michael Coleman in 2001. He made his Major League debut on September 10, 2002. Because he was signed to a major league contract, Peña's path to the majors was rushed, and he ended up becoming a bench player in an already crowded Cincinnati outfield.
His $2.3 million signing bonus is now the 3rd largest ever for an amateur free agent. In December 2007, he signed a one-year contract with the Nationals for $2 million with a mutual option for 2009 of $2 million (if Pena picks it up) or $5 million (if the Nationals pick it up).
Boston Red Sox
Edit
The Reds traded Peña to the Boston Red Sox during spring training in 2006 for pitcher Bronson Arroyo. Over the course of the season, Peña served as a fourth outfielder and one half of a platoon in right field with Trot Nixon. He batted a career-high .301 with a personal best on base percentage of .349 in 299 plate appearances. Following an injury to Coco Crisp, Peña filled in at center field. On May 27, he was placed on the 15-day disabled list after surgery was required for an injured tendon in his left wrist. On July 18, he was activated from the disabled list. After platoon-mate Trot Nixon injured his biceps on July 30, Peña played more frequently in right field. The next day he fell a double short of hitting for the cycle in a 9-8 win over the Cleveland Indians.[1]
Peña also played for the Dominican Republic in the 2006 World Baseball Classic.
Peña only saw spot action in 2007 with the Red Sox, filling in for Coco Crisp and J.D. Drew at center and right field. As of August 16th, he was batting .218 with 5 home runs and 17 RBI, and 18 runs scored in 156 at-bats. Pena hit a grand slam off of closer Chris Ray of the Baltimore Orioles to help the Red Sox to a 5-2 victory on April 26. Through the season Peña was rumored to be on the trading block, including in a deal at the trade deadline that did not go through.
Washington Nationals
Edit
On August 17 Peña was traded to the Washington Nationals, with the Red Sox receiving 25 year-old first baseman Chris Carter and the Arizona Diamondbacks receiving Emiliano Fruto and cash considerations. Peña hit well for the Nationals, and finished 2007 with a cumulative 289 at bats, 13 home runs and he batted .259 with a .319 on-base percentage and a .439 slugging percentage.
Philanthropy
Edit
In 2007, Wily Mo Peña and his MoPeace Foundation teamed up with Joslin Diabetes Center's Latino Diabetes Initiative for the Beisbol y Salud Latino Diabetes and Health Festival to educate Latino men, women and children about type 2 diabetes.
References
Edit
External links
Edit
Community content is available under
CC-BY-SA
unless otherwise noted.