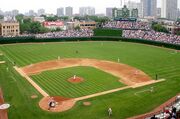 Wrigley Field is a baseball stadium located in Chicago, Illinois. It has been the home field for the Chicago Cubs since 1916, two years after it was built in 1914 to serve as the home for the Federal League Chicago Whales.
Originally named Weeghman Park, after Chicago Whales owner Charles Weeghman, the field's name was changed to Cubs Park in 1920 following Weeghman dropping from a partnership with William Wrigley, Jr. due to financial reasons. The name was subsequently renamed to Wrigley Field in 1926, as it is called today.
Between the 2014 and 2015 seasons, the left and right field bleachers were completely rebuilt, increasing the capacity and adding two LED message boards.