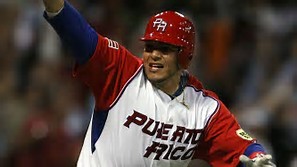 Yadier B. Molina
(born
July 13
,
1982
in
Bayamon
,
Puerto Rico
) is a
Major League Baseball
catcher
who plays for the
St. Louis Cardinals
.
Molina is the third catcher to play in two World Series before age 25, along with Johnny Bench and Yogi Berra. In his young career, Molina has thrown out 55 percent of runners attempting to steal bases, and has routinely led major league catchers in pickoffs. Molina (as of May 24, 2007) was on a 15-game hitting streak, the longest by a Cardinals catcher since 1975. This is the third longest hitting streak by a Cardinals player in the 2007 season with the longest hitting streak by So Taguchi and the second longest by Juan Encarnacion.
Early life and family
Edit
Molina was born to Gladys Matta and Benjamín Molina.[1] Molina's two older brothers, Bengie and José, are also major league catchers, Bengie with the San Francisco Giants, and José with the New York Yankees. Both say Yadier is the best catcher among them. Bengie, Jose and Yadier are the only trio of brothers to have each earned World Series champion rings. Molina makes his home in Vega Alta, Puerto Rico.[2] He lives in Caseyville, Illinois during baseball season.
Professional career
Edit
Molina made his debut with the Cardinals during the pennant-winning season of 2004, backing up Mike Matheny. Matheny served as a mentor to Molina, and like Matheny, Molina is an outstanding defensive catcher. Molina was picked over Matheny to start Game 4 of the 2004 World Series against the Boston Red Sox and during the following offseason, Matheny signed a 3-year, $10.5-million contract with the San Francisco Giants, clearing the road for Molina to become a starter for St. Louis.
In 2005, Molina's defense did not disappoint, and despite an awful offensive start, Molina proved to be a consistent contact hitter. In 114 games, he posted a .252 batting average with eight home runs and 49 RBIs.
In 2006, in Game 7 of the NLCS, Molina hit a 2-run home run in the top of the ninth inning off Aaron Heilman of the New York Mets, giving the Cardinals a 3-1 lead and helping them secure a trip to the 2006 World Series, where they defeated the Detroit Tigers.
Molina also played for the Puerto Rican team in the first World Baseball Classic. Yadier went 3-5 with an RBI in the four games that he played.
It was announced on Wednesday May 30 that Molina would be sidelined 4-6 weeks with a fractured wrist after being struck by a pitch in a previous game. He was activated from the 15-day Disabled list on June 28. His first game off the disabled list was against the Cincinnati Reds.
He enjoyed a two home-run game for the first time in his career against the Milwaukee Brewers, helping the Cardinals beat the Brewers 8-0, in Milwaukee on August 16, 2007.
After the 2006 postseason, Molina proved to be both a good defensive and offensive player in the 2007 season ending the season with a .275 batting average, 6 home runs, and 40 RBIs. Molina's is primarily known for his defensive play. He has a strong arm, making runners think twice before stealing on him. Through the 2007 season Molina has thrown out 50% of those runners attempting to steal while he is behind the plate. Manager Tony La Russa and Pitching Coach Dave Duncan estimate that Molina is responsible for calling over 75% of all pitches thrown during a game. On January 14, 2008 it was announced that Molina and the Cardinals had agreed to a 4 year $15.5 million deal with a club option for a fifth, apparently cementing his position as their catcher of the future. [3]
On June 15, 2008, Molina was involved in a collision at home plate with Phillies infielder Eric Bruntlett and suffered a mild concussion.[4] He was hit with an elbow to the back of the head and ended up lying face down in the dirt, but the ball was fully gripped in his right hand. The following day he was released from the hospital.[5] On July 11, 2008, Molina connected his 12th double of the season and hit 5-2 in the Cardinal's fist game of their last series before the All-Star break.[6]
Fielding Bible Award at catcher, 2007
References
Edit
External links
Edit
Community content is available under
CC-BY-SA
unless otherwise noted.