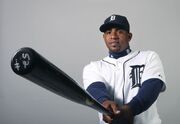 Yoenis Céspedes Milanés (born October 10, 1985 in Campechuela, Granma Province, Cuba)[1] is a Cuban professional baseball outfielder for the New York Mets.
Before joining the Major League, he played in the Cuban National Series and was a member of the Cuban national baseball team.
Cuban career
Edit
Céspedes is the son of Estela Milanés, a softball pitcher who appeared in the 2000 Summer Olympics for Cuba.[2][3] Céspedes debuted in the Cuban National Series with Granma during the 2003–04 Cuban National Series, hitting .302/.382/.503 (batting average, on-base percentage, and slugging percentage). Céspedes received consideration for the Cuban National Series Rookie of the Year Award, but lost out to Frank Montieth.
Céspedes batted .313/.403/.540 in the 2004–05 season. In the 2005–06 season, he hit .351/.444/.649 with 23 home runs, 89 runs and 78 RBI in 88 games. He tied Yulieski Gourriel for the Serie Nacional lead in runs and was four home runs behind Gourriel for the lead, placing second in the circuit. He tied for 7th in doubles (24), was second in total bases (220, 6 behind Gourriel) and was 4th in slugging. He hit .481/.481/.741 for Cuba in the 2006 Haarlem Baseball Week as their #2 threat after Yoandry Urgellés.
Céspedes produced at a .303/.402/.541 rate in the 2006-2007 season with 17 home runs and 79 runs in 89 games. He again led in runs. He also was 5th in doubles (24), tied Yosvani Peraza for third in home runs, was 4th in total bases (184), tied Alfredo Despaigne for 4th in RBI, tied for 4th in steals (15) and was 6th in slugging. He was 1 for 7 with a steal and a run in the 2007 Pan American Games in his debut for the Cuban "A" national team.
Céspedes hit .284/.342/.552 in the 2007–08 season. He was among the league leaders in RBI (tying teammate Despaigne for third with 78), tied Urgellés for 4th in runs (82), was second in home runs (26, trailing only Alexei Bell) and was 4th in 202 total bases. Due to his lower average, he failed to make the top 10 in slugging.
Céspedes was Cuba's starting center fielder in the 2009 World Baseball Classic. He hit .458/.480/1.000 with a double, 3 triples, 2 home runs, 5 runs and 5 RBI in six games. He led Cuba in slugging and was second to Frederich Cepeda in average, OBP and OPS. He tied Cepeda and Yulieski Gourriel for the team lead in runs and tied Gourriel for second in homers, behind Cepeda. He broke a 1-1 tie against Australia with a 6th-inning solo homer off Damian Moss and started a 16-4 romp over Mexico with a leadoff triple against Pablo Ortega. Yoennis got Cuba's best scoring chance in their last game, a 5-0 loss to Japan, tripling off Hisashi Iwakuma but getting stranded. Earlier in that game, he dropped a fly from Michihiro Ogasawara to let the first two Japanese runs score.[4] Cuba thus missed the final four of an event for the first time ever; they had also made the finals of every global baseball competition since 1959.[4]
Céspedes batted .323/.411/.601 in the 2008-2009 season with 24 homers and 83 runs in 87 games. He tied Leonys Martín for 4th in the league in runs and tied Rolando Meriño for third in home runs (trailing Alfredo Despaigne and Joan Carlos Pedroso). He was 7th in total bases (197), 9th in RBI (76) and 10th in slugging. He made the All-Star outfield alongside Giorvis Duvergel and Despaigne.
He started the 2009 Baseball World Cup as Cuba's starting center fielder but struggled and only hit .194/.275/.333 while being caught in his only steal attempt;[5] Martín replaced him as the event went along.[3] In the Gold Medal game, Yoennis pinch-hit for Yorbis Borroto and got a 9th-inning single off Brad Lincoln in Cuba's 10-5 loss to Team USA as they settled for a Silver Medal.
Céspedes hit .345/.426/.617 in the 2009-2010 season with 87 runs and 22 homers in 87 contests. He was third in the league in runs (3 behind leader Yulieski Gourriel), 10th in hits (118), 8th in home runs, 4th in total bases (211, behind Alfredo Despaigne, Gourriel and José Dariel Abreu) and was 9th in slugging. He was not picked as an All-Star outfielder as Despaigne, Cepeda and Bell took the three slots.
Céspedes was 11 for 22 with 12 runs, 14 RBI, 2 doubles and four homers in six games at the 2010 World University Baseball Championship.[6] He drove in six against South Korea and five against China. In the Gold Medal game, he was 0 for 4 with a strikeout as Cuba's #5 batter in a 4-3 win over Team USA. He made the tournament All-Star outfield alongside Mikie Mahtook and Shota Ishimine. He played for Cuba when they finished second in the 2010 Pan American Games Qualifying Tournament. In the 2010 Intercontinental Cup, he was 3 for 10 with a double, 3 runs, 4 RBI and a walk as a backup. In the 4-1 win over the Dutch national team in the Gold Medal game, he was the second of three left fielders Cuba used. He replaced Yoandry Urgellés, was retired by Berry van Driel, then was replaced by Despaigne.[7]
Céspedes put up a .333/.424/.667 batting line with 89 runs, 33 home runs and 99 RBI in 90 games in the 2010-2011 season. He led the league in runs (five ahead of Cepeda), tied Abreu for the home run lead (breaking Despaigne's league record by one),[8] tied Cepeda for the most total bases (236), tied Ramon Tamayo for 7th in steals (11 in 14 tries), led in RBI (6 ahead of Abreu) and finished 5th in slugging. He was named the All-Star center fielder, joining Despaigne and Cepeda in the outfield.
Defection
Edit
Céspedes defected from Cuba in the summer of 2011 to the Dominican Republic to seek free agency in Major League Baseball (MLB).[9] It is expected that he will be declared a free agent during the 2011-12 offseason.[10] He established residency in the Dominican Republic in January 2012.[11]
Major League Baseball
Edit
On February 13, 2012, Céspedes reportedly agreed to a 4-year, $36 million contract with the Oakland Athletics.[12]
On July 31, 2014, Céspedes was traded to the Boston Red Sox in exchange for pitcher Jon Lester and utility player Jonny Gomes. Cespedes hit his first home run as a member of the Boston Red Sox on August 10, 2014 against the Los Angeles Angels of Anaheim, with a 3-run home run. Céspedes ended the season with a .260 batting average with 22 home runs and a career high 100 RBI.
On December 11, 2014, the Red Sox traded Céspedes along with Alex Wilson and Gabe Speier to the Detroit Tigers for Rick Porcello. Céspedes played his first game with the Tigers during opening day against the Minnesota Twins on April 6, 2015, where he robbed Kurt Suzuki of a home run, leading to a 4-0 victory for the Tigers. Through June 13th, Cespedes was hitting .308 with 9 home runs and 33 runs batted in. He was not selected as an All Star but was put in as a player on the All Star Final Vote.
Scouting report
Edit
Céspedes is considered a five-tool center fielder. Kevin Goldstein of Baseball Prospectus called Céspedes "arguably the best all-around player to come out of Cuba in a generation."[13]
References
Edit
External links
Edit
Community content is available under
CC-BY-SA
unless otherwise noted.